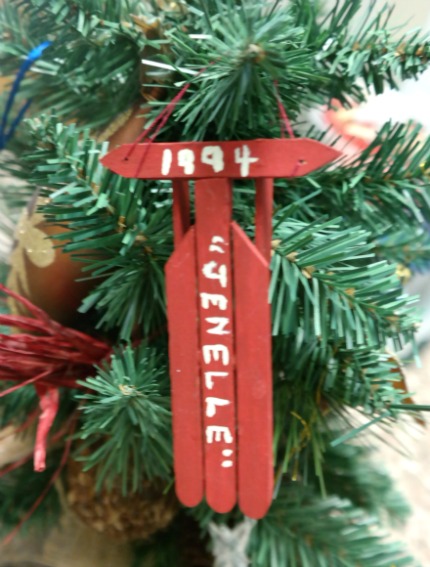 I've got another great Christmas craft project for all of you today. This project can be made with older children with the help from an adult since cutting is involved. It's a frugal project and you can make several of these adorable little popsicle stick sleds up in one afternoon. Use them as Christmas tree ornaments or as package toppers. As you can see by the date on this one, we've been making them for years!
Popsicle Stick Sled Christmas Tree Ornaments
6 wooden popsicle sticks
acrylic paints and paint brush
wood glue
scissors
razor blade knife
embroidery floss
small diameter drill bit & drill
newspaper
water dish & paper towels
You will need 2 completely un-cut popsicle sticks for the side runners of the sled. For the top portion of the sled you will need to cut off 1/3 of two sticks for the outer wood pieces and cut them off at an angle/slant. The center stick of the sled is another popsicle stick that hasn't been cut. The "foot rest" area of the sled is a stick that has it's ends cut off and each end is cut into a point. From point to point this piece measures 3″ long. You will need two scrap pieces of sticks that each measure 1″ long to use as supports underneath the sled.
Once all of your pieces have been cut out (refer to the photos in this post) let the kids paint all of the sides in their choice of color. In this case, all of our pieces were painted a dark barn red color. Let them dry thoroughly.
Now it's time to assemble your sled. Lay one stick down onto the table and place one of the angled sticks on each side. You are building the seat of the sled. The ends of the stick should line up evenly along the back-end. Using glue, add the two 1″ support sticks underneath by placing one in the middle and one towards the back. These support sticks just hold the top 3 sticks together to form the seat. Take the two un-cut full-size popsicle sticks and glue them on each side of the sled to form the runners. Let dry.
* This post contains affiliate links. If you make a purchase, we may or may not receive a small commission which helps to support this site. Thank you!
While everything is drying…you'll need to drill or poke a tiny hole in each end of the foot rest piece (stick) because these holes will be used to threat the embroidery floss through for hanging of the ornament. Glue the foot rest onto the center popsicle stick that makes up the seat/base of your sled (see photo for placement). Once it has dried…thread through some matching colored embroidery floss to serve as the ornament hanger.
Sorry if my directions sound a little confusing but use the photos as a guide for assembling your pieces. It's really quite simple when you sit down to make them! You can write names, dates, places or decorate your little sleds any way that you would like! Enjoy!