It's the holiday baking season and I've been a busy baker! Already this season I've baked several dozen cookies, two cakes and 7 pies! One of the things I love doing this time of year is baking up a lot of homemade treats and then I donate them to a local assisted living home. The senior adult residents love getting homemade baked goods and they really appreciate them and my visits!
Last week I made 5 homemade pumpkin pies and I used one of my favorite recipes from Country Crock. Here is their recipe and it will make approximately 8 servings. You can visit the Country Crock web site to grab the recipe or get it below.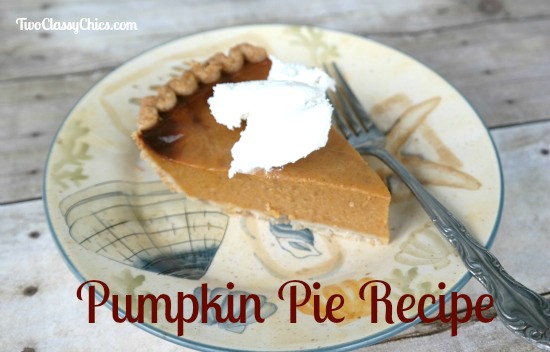 Crock Pumpkin Pie Recipe
1 cup firmly packed light brown sugar
1/2 tsp. salt
1 1/2 tsp. ground cinnamon
1/8 tsp. ground allspice
1/2 tsp. ground ginger
2 large eggs
1 can (15 oz.) pumpkin
1 1/2 cups milk
* Flaky Pie Crust (recipe below)
Preheat oven to 425°.
Combine sugar, salt and spices in small bowl; set aside.
Beat eggs with pumpkin with electric mixer, then beat in sugar mixture. Slowly add milk. Pour into Flaky Pie Crust.
Bake 15 minutes. Decrease oven temperature to 350° and bake 45 minutes or until knife inserted near center comes out clean. (If crust is browning too quickly, cover edges with aluminum foil.) Cool on wire rack 2 hours. Chill, if desired.
* This post contains affiliate links. If you make a purchase, we may or may not receive a small commission which helps to support this site. Thank you!
For Flaky Pie Crust, combine 1 cup all-purpose flour, 1-1/2 tsp. sugar and 1/4 tsp. salt in medium bowl. Blend in 6 Tbsp. Country Crock® Spreadable Sticks with pastry blender or two knives to form coarse crumbs. Add 2 to 3 Tbsp. ice water, 1 Tbsp. at a time, and mix with fork until dough forms. Knead dough with lightly floured hands until mixture forms a ball. Roll out dough on lightly floured surface from center to edges, forming a 12-inch circle. Press into 9-inch pie plate. Fill.

Disclosure: Shelly received a free tub of Country Crock to use for this feature and recipe. No monetary compensation was received.