I love truffles. Seriously, I could eat truffles every day for the rest of my life and never get bored with them! With that said, I typically don't make them at home because I always thought it would be hard to make them. Well, I am changing my mind about that today!
Check out this recipe which is courtesy of Coco Joy. I think they look delicious and they look super easy to make! The recipe makes 8 servings.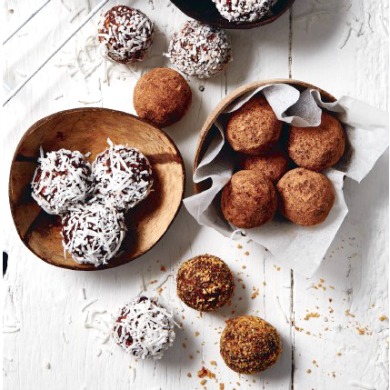 Coconut Cacao Truffles Recipe
¾ cup Raw Unsweetened Cacao Powder
2 cup Raw Almonds
¼ cup Raw Cashews
½ cup Maple Syrup
¼ cup Coco Joy Coconut Water
1 Heaped tbsp. Coco Joy Coconut Oil
Pinch of Salt
Coating Options: Crushed Almonds; Cacao
In a food processor on high speed, combine all ingredients and blend until you have a thick batter.
Shape into small balls about 1 inch in diameter; roll in desired coating; place on a plate. Cover and keep in the freezer until ready to eat.