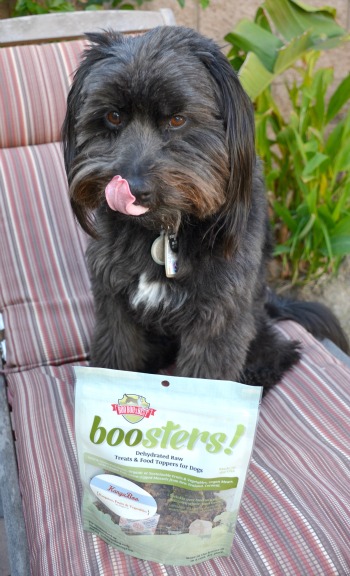 I think my dog is the coolest, sweetest and most lovable little creature on earth, so I am always on the lookout for new goodies to give him to reward him and treat him to something tasty. I am particular about what I buy him though as I want to be sure he's getting something that's not only delicious to him, but also healthy and safe. I was recently asked to review one of the latest delicacies from Boo Boo's Best, and let me tell you, when I opened the package it came in, someone's tail was wagging a mile a minute!
Boo Boo's Best was founded on the belief that dog food should not be created in a lab. So many dogs today suffer from obesity, allergies, digestive issues and other health problems, and just like with people, the foods we eat have a direct impact on the way we feel, and how healthy we are. Proteins like chicken, beef and lamb and ingredients like rice and corn are so widely used in the pet food industry that dogs are developing allergies or intolerance to them; and these manifest in a variety of ways, from digestive issues, gas and bloating to skin rashes and dandruff.
Boo Boo's Best boosters! Dehydrated Raw Treats and Food Toppers for Dogs are made in California without grains, corn, soy, gluten, artificial ingredients of any kind, or ingredients from China. This 100 percent natural, whole food offers a giant boost of nutrition in every bite. It is made from wild or grass-fed meats and organ meats from Australia, New Zealand and the U.S. with organic and sustainable fruits and veggies, and organic virgin coconut oil to name a few.
The boosters! line is made with exotic proteins like Kangaroo, Goat, Rabbit, Bison, Pork and Green-Lipped Mussels from New Zealand. My dog got to sample the KangaBoo, which includes Kangaroo, fruits and vegetables. The proteins in the boosters! are slightly uncommon in other dog foods, but are tastes that your dog will love. Additionally, these unique ingredients are terrific for dogs with allergies or digestive issues, are perfect as training treats, and are also a wonderful food topper to entice bored, stressed or picky eaters to lick their bowls clean. My dog hears me pull the bag of boosters! out of the cabinet and he comes running! Wild and grass-fed proteins are raised without antibiotics or hormones, and are naturally higher in anti-inflammatory Omega-3 Fatty Acids and other nutrients, and are far less likely to harbor bacteria and parasites. These natural, whole-food ingredients are slowly dehydrated to preserve nutrients and flavor.
You can either sprinkle the boosters! on top of your dog's food as a healthy, delicious topper or offer them up as a treat in between feedings. The KangaBoo boosters! come in two sizes – a 2 ounce pouch or a 5 ounce pouch and cost $5.25 and $12.85, respectively. You can find these at a variety of retail locations as well as purchase them directly on the Boo Boo's Best website.
Giveaway: One lucky winner is going to win two (2) random varieties of boosters! and a tote bag & a doggie bandana from Boo Boo's Best! Cool! See below on how to enter!
Giveaway Details: This giveaway is open to US Residents age 18 or over. You must complete the Mandatory Entry to be eligible. This giveaway will close on December 31st, 2015 at 11:59pm EST Time.

Disclaimer: Kristine has personally reviewed the product listed above. She has not received any monetary compensation for her review but did receive a free product to try out so she could evaluate and use it for her review. Her thoughts & opinions in this review are unbiased & honest and your opinions may differ. Please read our official rules for giveaways before entering. Two Classy Chics is not responsible for shipment of this product