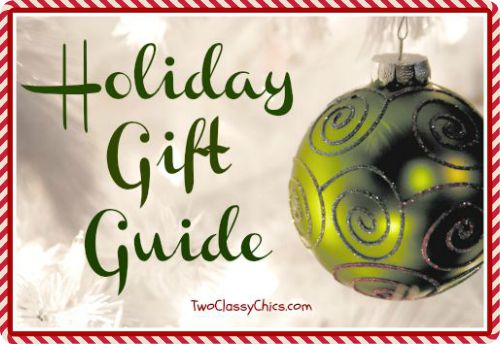 If you ask women what they would like this holiday season in regards to a gift…I bet at least half of them would answer that they want a nice piece of jewelry. I know for myself…I get several pieces every year during the Christmas season and it's one of my preferred gifts to receive.
7 Charming Sisters is a brand new jewelry company that just opened up for business in November 2015. The company was started by 7 women who worked together for many years and have now branched out & started their own boutique style jewelry company.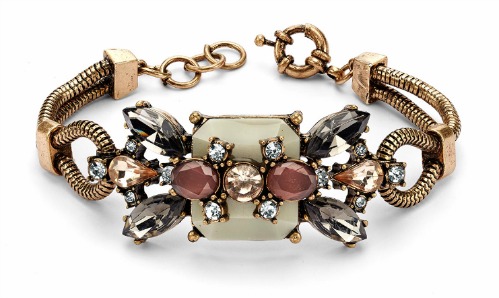 When you shop at 7 Charming Sisters you'll find gorgeous pieces of jewelry in all kinds of different styles. I really feel that there is a unique piece for every woman on your holiday gift-giving list! There are trendy items, classic items and very unique boutique pieces.
Last month I reviewed the Exquisite Taste Necklace and I invite you to revisit that review by clicking HERE.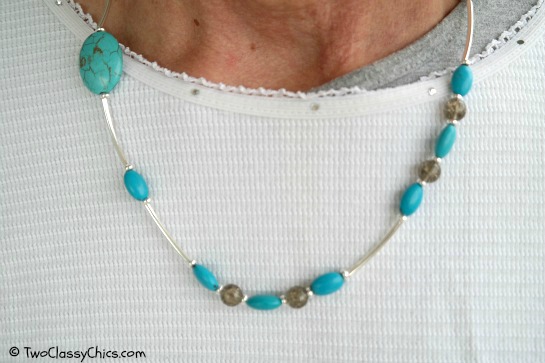 For this review I received the beautiful Cape Cod Necklace to check out for all of you. I have to admit…I'm very partial to this style of jewelry because I spent half of my life living in the southwest and half of my life living along the Atlantic coast. Yes, one extreme to the other.
This necklace is a shorter style necklace with a length of 17″ with a hook-style clasp. I love this style of clasp because I can get the necklace on & off all by myself. It's made out of a silvertoned metal so you don't have to worry about it tarnishing like you do with sterling silver pieces. I appreciate that because I'm way too busy to be polishing jewelry!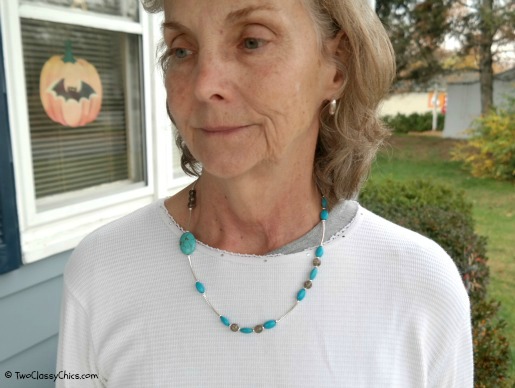 In between the silvertoned metal beads and curved bars are beautiful faux turquoise beads and glass beads that remind me of smoky quartz. I love that some of the beads are round and others are oval which adds texture and interest to the piece. On the clasp of the necklace is the classic 7 Charming Sisters charm. (Thanks mom for modeling for me).
I love everything about this necklace! I love how easy it is to get on, I love the color combination, I love that it's not a totally beaded piece and the length is just perfect! Trust me, it's gorgeous and none of these photos do it any justice! It can be worn casually, semi-casually or dressed up with a nice business suit or party gown. It's fantastic!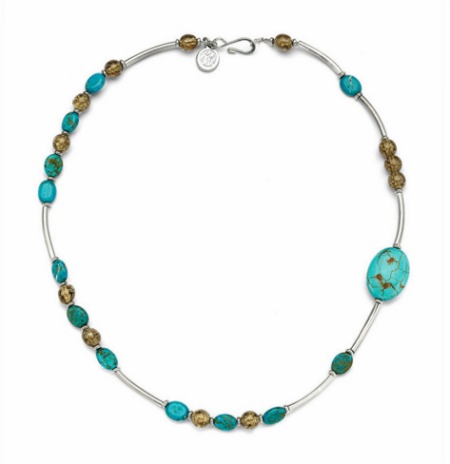 Head on over to 7 Charming Sisters and take a look at all of their gorgeous earrings, rings, bracelets and necklaces that they have to offer. All of their pieces are extremely well-made and sold at very affordable price points. What a great gift to give this holiday season!

Disclaimer: Shelly H. received a complimentary sample of the product featured in this post. No monetary compensation was received. Regardless, Shelly's thoughts, opinions and words are 100% her own, unbiased opinion. Your opinion may differ. Thanks!