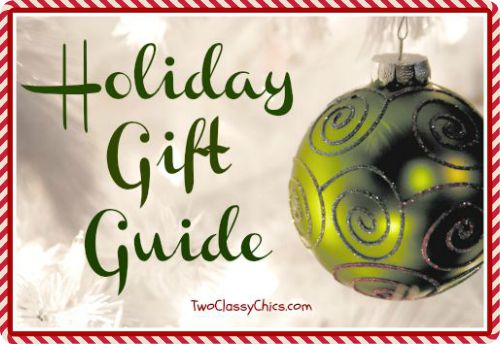 I'm super excited to have Dorcy in the Two Classy Chic's Holiday Gift Guide again this year! If you are unfamiliar with  the lighting company called Dorcy Direct, they sell hundreds and hundreds of indoor and outdoor lighting products. When you shop at Dorcy Direct you will find motion sensing lighting, flashlights, flood lights, path lights, battery operated ceiling lights, camping lanterns, headlights, spotlights and so much more! They are truly your one-stop lighting super store!
For this review I'm featuring a really cool product that would make a great holiday gift for anyone on your gift-giving list who spends time outdoors and loves to listen to music.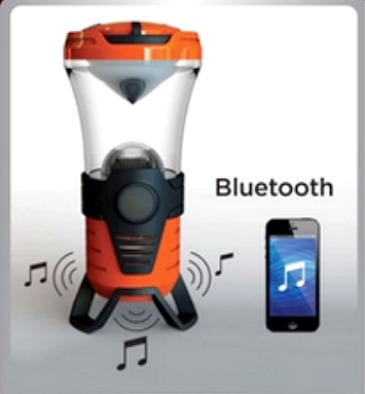 The USB Rechargeable Speaker Lantern from Dorcy has a lot of features that you won't find in most other lanterns. Take a look at these features:
* Bluetooth Speaker – Water Resistant at Base
* USB Output Capacity to Charge Cellphones or Tablets
* Dual Light Modes – Low and High
* Built-In Hanging Hook
* 120 Lumens – Bright LED Light
* Easy Push Button Switch
* Audio Jack with Bluetooth On/Off Switch
* Carry, Hang or Sit on Tabletop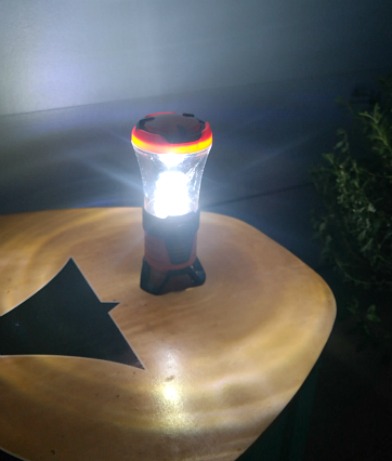 As you all know…we spend a lot of time outdoors camping and hiking. On top of that, we live in a very stormy area of the country that gets hit often by hurricanes, tornadoes, severe thunderstorms, ice storms, snow and blizzards. Yup, that's called the northeast!
We use lanterns all of the time here at our home. They are used when we travel and they are used at-home when we are outside entertaining at night or during power failures after severe storms. In my honest opinion, you can never have enough battery powered lanterns in your home!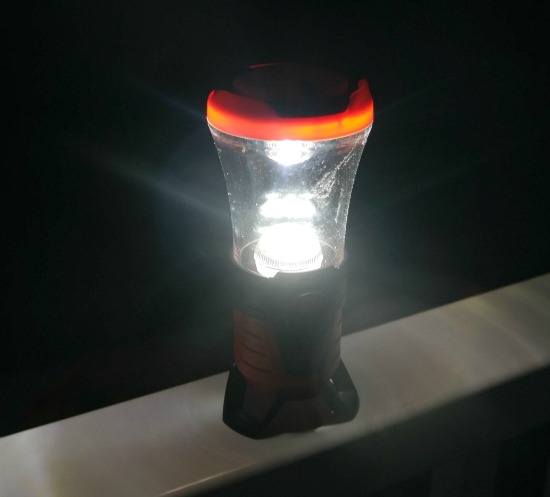 One of the things I love about this lantern is it's size. It's small, compact and very light-weight. When traveling…it takes up very little space. Second…I love that we can hook up our smartphone and listen to music through the lantern's Bluetooth speaker. Third, I love having the ability to recharge our smartphone or tablet. How cool is that? Totally cool.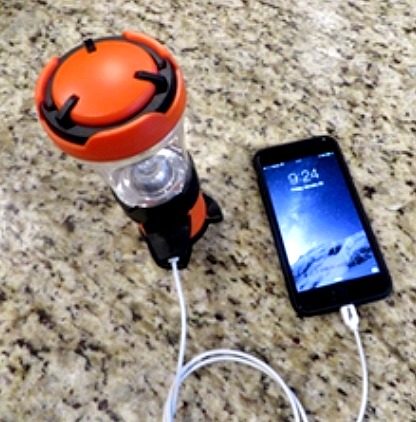 My two nighttime photos show the 2 different power settings that you have. The first photo (with it sitting on my patio table) I have it set on HIGH. In the second photo I have it on my porch railing and have it set on LOW. Regardless of function…you get a lot of bright light!!!
This is one fantastic lantern that would make a great holiday gift! You can find this lantern and many other gift-ideas by visiting Dorcy online.
* This post contains affiliate links. If you make a purchase, we may or may not receive a small commission which helps to support this site. Thank you!

Disclaimer: Shelly H. has personally reviewed the product listed above. Shelly has not received any monetary compensation for her review. Shelly did receive a free product to try out so she could evaluate and use it for her review. Her thoughts & opinions in this review are unbiased & honest and your opinions may differ. We are not responsible for injury or mis-use of any products won from the Two Classy Chics Blog. Please read our Terms of Service & Disclaimer Policy before entering our giveaways. Thanks!