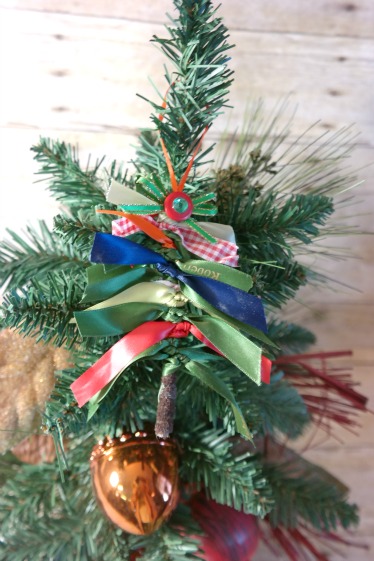 Back in early November I had my 6 year old grand daughter over for the weekend. Every time we get together…we always set aside some time for crafting. Just like her Nanny (me) She loves to sit down and be creative!
One of the projects we made were this adorable ribbon tree holiday ornaments. You only need a few supplies and if you are already a crafter, it's a great way to use up your leftover scraps of ribbon. Here's how we made them.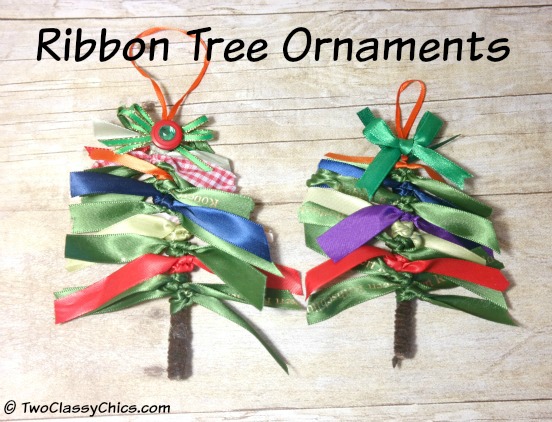 Kid's Crafts – Ribbon Tree Christmas Ornaments
Skinny Straight Twigs 5″ to 6″ Long
Dark Brown Yarn
Scraps of 1/4″ to 1/2″ Wide Ribbon
All Purpose Craft Glue
Scissors
Decorative Buttons
You want to use thin but yet sturdy twigs that you've collected from outdoors. Make sure they are dry and bug-free. It's easiest to work with ones that are straight and don't have nubs. Cut a piece of dark brown yarn that is 4-6 times the length of your twig. Add a dot of glue onto your stick at one end and wrap the dark brown yarn around the entire length of the stick and once at the other end…secure with glue.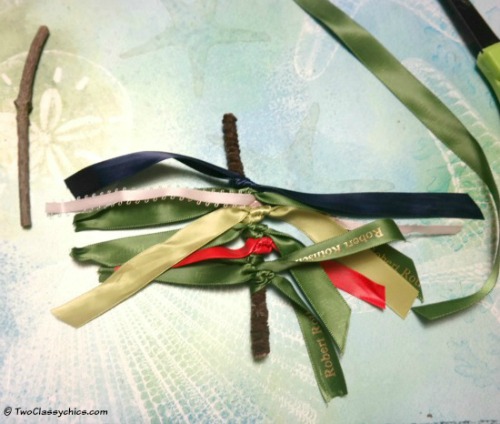 We used a wide variety of satin ribbons that I had leftover from other projects or from ribbons that I've collected from various packages. I always toss these ribbons into a special shoe box just for crafting.  You'll need longer length ribbons for the bottom of your trees and shorter ones for the top. However, don't worry about getting their length correct right now.
Leave 1 1/2″ of your stick bare with no ribbons which will serve as the tree trunk. Starting up from that point…tie ribbons around the stick and work your way up. You can use a wide variety of colors but we liked using mostly green and added in colors in-between. You want all of your knots facing one direction so that it gives everything a nice even look. Tie the ribbons around the entire stick until you reach the top.
Lay your ornament down onto the table and trim up all of your ribbons to form a triangular tree shape. Don't worry, they don't have to be perfect!
* This post contains affiliate links. If you make a purchase, we may or may not receive a small commission which helps to support this site. Thank you!
To finish up…take a thin piece of ribbon and tie it into a loop, double knotting the end. Take a second piece of 1/4″ wide ribbon and tie it into a bow. Add a nice sized dot of glue at the top of your tree and add the hanging loop you just made. Add another smaller dot of glue on top of that and add your ribbon bow. If desired, add another dot of glue and add a decorative button.
As you can see from our two examples that we are featuring today, one tree has a decorative bow & button at the top and the second tree has just a plain bow. Use whatever you have on hand! That's it!
We were able to make a dozen of these trees in less than 2 hours. We are going to attach them to packages this holiday season. Then the recipient can use the package toppers as Christmas tree ornaments! What a great craft project to do with the kids!