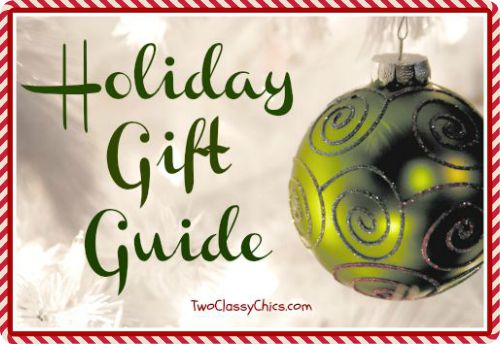 Oregon Scientific recently launched the PROJI Projection Clock. PROJI is an alarm clock that displays both time and weather on the main unit and conveniently projects the numbers on a wall, ceiling, or other smooth surface. The sleek, modern design comes in a variety of colors to match your décor or make a statement.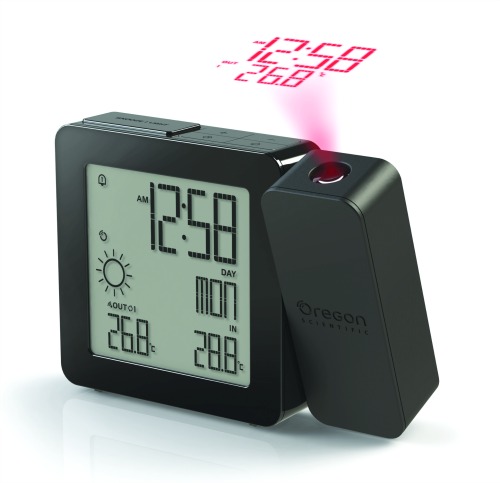 The PROJI Projection Clock features:
* Instant Projection: Forget rummaging in the dark to see your clock, simply tap the snooze button and instantly cast temperature, time, date, and the weather forecast on virtually any surface.
* 180° Flip Arm: The adjustable projection arm with 180° flip rotation allows you to adjust the projection at any angle that suits your eye level.
* Dual Alarm: The dual alarm function allows you to set two alarm times on a single clock keeping you on time whether it's the weekday or weekend.
* Atomic Clock: As an atomic clock, PROJI automatically updates at the start and end of Daylight Saving Time.
* Color Choices: Available in black, white or silver.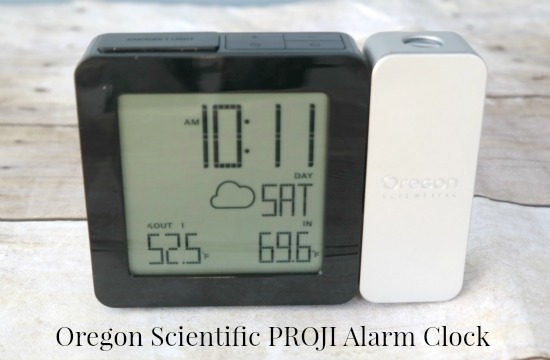 I recently received a complimentary PROJI Projection Clock from Oregon Scientific to check out for all of you. Unlike other alarm clocks I've owned in this past…this one is loaded with modern technology.
The PROJI Projection Clock includes the batteries and an AC adapter power cord. Everything that you need is included right from the get-go…nothing extra to buy.
One of my husband's favorite features is how he can have the time and temperature project right on the ceiling above the bed. While that's his favorite feature…I personally love the dual alarm since we both get up at different times to start our day. The clock can display indoor/outdoor temperature which is nice because you then know which clothing is appropriate to put on too!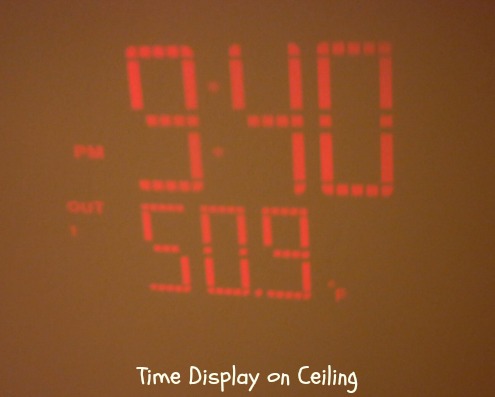 Besides all of the great features…I love that the PROJI Projection Clock is small, compact and very light-weight. We do a lot of traveling and I can easily pack this alarm clock right into one of our travel bags. Finally, it's pre-programmed for 6 time-zones which is a must-have for travelers like ourselves.
* This post contains affiliate links. If you make a purchase, we may or may not receive a small commission which helps to support this site. Thank you!

Disclaimer: Shelly H. has personally reviewed the product listed above. Shelly has not received any monetary compensation for her review. Shelly did receive a free product to try out so she could evaluate and use it for her review. Her thoughts & opinions in this review are unbiased & honest and your opinions may differ. Thanks!