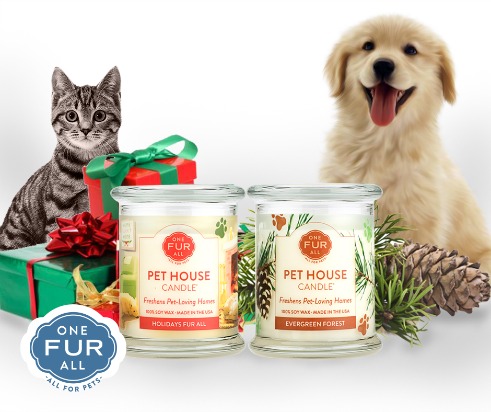 "We believe our pets change us and improve the quality of our lives." Can you imagine your life without your pets? Of course not…your pets are family! Every day with them enriches your life and brings joy. They are the reason One Fur All was created and why the founders focus on developing products that strengthen pet family bonds. All of their premium products are made in America and designed with human and pet family members in mind. High-quality products for pet families are produced while supporting non-profit rescue organizations.
One Fur All believes pets change us and improve the quality of our lives. Their mission is to help pet families strengthen their bonds, contribute to finding homes for rescued animals and spread the joy of being a "fur family". To learn more about the founders of One Fur All and their mission to help support non-profit, no-kill rescue groups across the United States, click here.

One Fur All candles are a MUST for your house this autumn and holiday season for many different reasons. Each candle is hand-poured into a reusable jar with 100% natural soy, dye-free wax and burns approximately 70 hours totals. Each candle is also made with an odor neutralizer, infused with a signature blend of essential oils, and specially formulated to freshen pet-loving homes. Lastly, each candle is made in the United States and is satisfaction guaranteed. So why soy candles you ask? The answer is simple: soy candles are natural, burn cleaner, last longer and have a better scent.
When given the opportunity to review yet another scent from One Fur All, there was no hesitation. I very much enjoy using One Fur All products in my home. As a newly fan of soy candles and an owner of three mischievous cats, these candles have been lifesavers. They do a great job at hiding the scent of cats, cat litter and any accidents that may have happened throughout the day.
The best thing about these candles is how strong the aroma is, and I enjoy the subtle scent of Holidays Fur All (combines classic fragrances of the Holiday Season. There's nothing more memorable than spending time with family [both furry and non-furry] and friends by the fire place while enjoying traditional holiday favorite scents including fir needles, cinnamon, clove and nutmeg.). This candle has a nice blend of scents; the fir needles do not overpower the other scents. This candle follows me everywhere I go when spending time at my boyfriend's home. As soon as you walk inside, you'll know that the holiday is upon us.
I love the concept of being able to use the jars after the candle has completely burned. It's very easy to clean out and use for center pieces or storage. I have a great idea to use the empty jar for potpourri in my boyfriend's bathroom. The print on the candle is very nice and will look great in the bathroom. With the holidays quickly approaching, we all strive for decorative houses; fun, Christmas music; and holiday aromas. One Fur All has many different scents to choose from to get you in the mood and to keep your guests in the mood.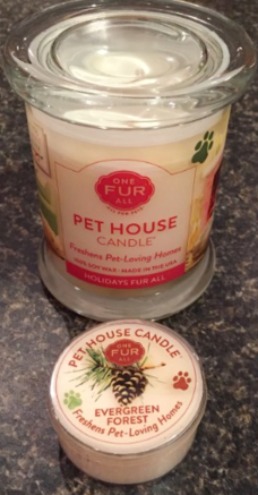 One Fur All candles can be found in stores across the United States, but can be ordered online. Each candle costs $19.95 with $6.99 flat rate shipping. Although these candles are a bit pricey, they work a lot better than the candles you find in your local grocery store. If you are looking for something to help alleviate the smell of multiple pets, or you just want a candle with a strong scent, then I highly recommend One Fur All candles. You won't be disappointed!
Giveaway: One lucky winner is going to win a Holidays Fur All – holiday scented candle from One Fur All Pets House Candles! Value $19.95.
Giveaway Details: This giveaway is open to residents of the US ONLY age 18 and over. Please read our Terms of Service & Disclaimer Policy before entering. This giveaway will close on November 30th, 2015 at 11:59 pm EST time. No purchase necessary to enter or win.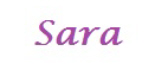 Disclaimer: Sara M. has personally reviewed the product listed above. Sara has not received any monetary compensation for her review. Sara did receive a free product to try out so she could evaluate and use it for her review. Her thoughts & opinions in this review are unbiased & honest and your opinions may differ. Two Classy Chics is not responsible for delivery of any giveaway items won from this blog. We are not responsible for injury or mis-use of any products won from the Two Classy Chics Blog. Please read our Terms of Service & Disclaimer Policy before entering our giveaways.