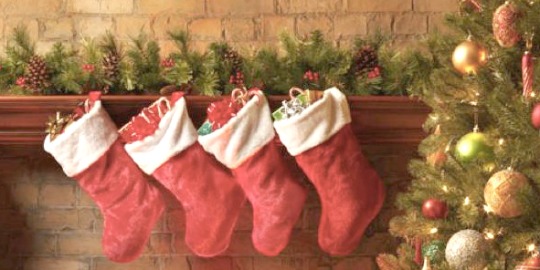 Trudeau Holiday Stocking Stuffers
Hung by the chimney with care, holiday stockings can hold some of the best gifts of the season. Both affordable and just the right size to stuff the stockings of the foodie, home chef, baker, wine lover, and culinary wiz, here are a few of our favorites from Trudeau: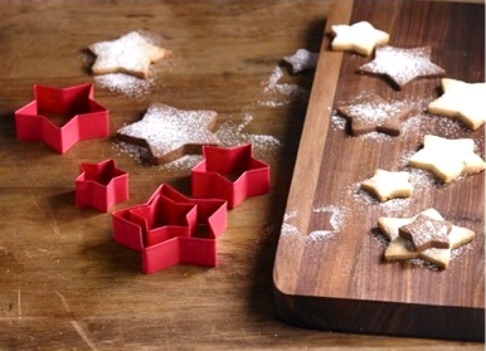 Set of Five Star Cookie Cutters: Festive stars are one of the most celebrated symbols of the holidays. Ideal for cookie dough, fondant, pastries, shortbread or creating decorative fruit slices, this all-star gift pack of 5 cookie cutters are made of stainless steel with a fashionable coral color finish. The fine edges make it easy for slicing and expert decorating. Cookie cutters conveniently nest together for compact storage. SRP $11.99

International Wine Charms: Easy to identify International Wine Charms are great conversation starters and a perfect sophisticated touch to at-home entertaining. Set of 6 unique charms hang from stemware and feature five of the finest wine regions including: Italy, France, Argentina, Australia and California with a sixth charm representing the world wines. These stainless steel charmers are equipped with a soft-touch backing to protect delicate glassware. SRP $11.99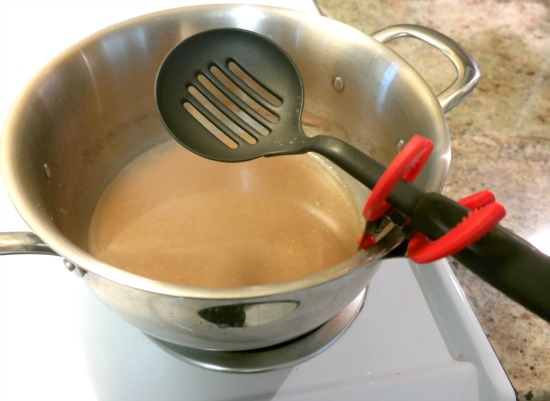 Flex Pot Clips: Keep cooking utensils from causing a mess on the stovetop with this must have Flex Pot Clip. It clips onto the side of a saucepan or stockpot to hold the utensil, eliminating the need for a spoon rest. Drips go right into the pot instead of on the counter or stovetop. The silicone pads protect your pot while the silicone around the opening keeps the utensil from slipping. Made from heat-resistant silicone and stainless steel. Comes in red, blue, or green. SRP: $8.99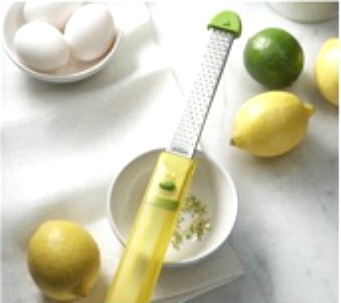 Zest Grater: Perfect for adding citrus-packed flavor or a light garnish, the Trudeau Zest Grater features a retractable handle which doubles as a protective sleeve for safe and convenient storage. Blades are honed to an optimal cutting angle. The zest grater comes in a bright green/yellow color that coordinates with lemons and limes. SRP $9.99
Universal Dripless Spout: This amazing Universal Dripless Spout allows a clean easy pour from any bottle! 100% dripless keeps both bottles and hands clean and oil free. Graduated silicone stopper fits majority of bottle sizes and comes with a cap for storage. Great for your favorite brands of olive oil! 5-year warranty.
* This post contains affiliate links. If you make a purchase, we may or may not receive a small commission which helps to support this site. Thank you!
I'm a foodie…so much so that I started a foodie blog way back in 2008 before most people even knew what a blog was! Over the past 7 years I've shared thousands of recipes and cooking tips with my readers on my foodie blog and here on TwoClassyChics.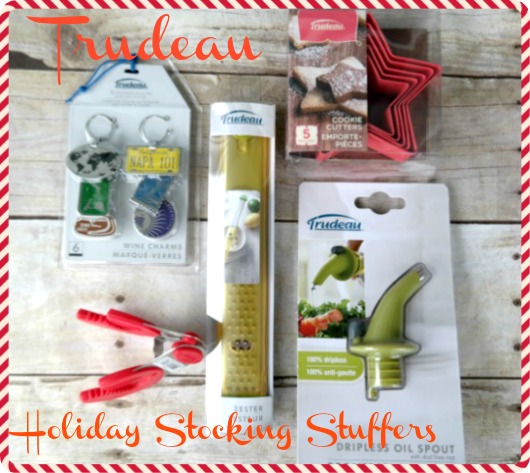 Recently I received all 5 of the stocking stuffers for foodies that I'm featuring here in this blog post from Trudeau. If you are unfamiliar with the company…they make high-quality kitchen tools and kitchen products. All of their items are built-to-last and to do a job…well-done!
Now that the holiday season is here…I've been using all of my new Trudeau kitchen tools and absolutely LOVE them! They make my prep work in the kitchen so much easier! Matter of fact, all 5 of them are my must-have foodie stocking stuffers for this year!
* This post contains affiliate links. If you make a purchase, we may or may not receive a small commission which helps to support this site. Thank you!
Head on over to Trudeau to learn more about the company and to check out all of the cool kitchen products that they have to offer. All are high-quality and affordably priced. You can connect with the company on Facebook too.

Disclaimer: Shelly H. has personally reviewed the product listed above. Shelly has not received any monetary compensation for her review. Shelly did receive a free product to try out so she could evaluate and use it for her review. Her thoughts & opinions in this review are unbiased & honest and your opinions may differ. Thanks!