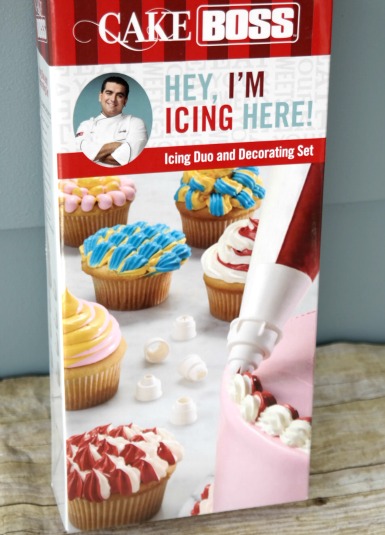 The holidays are quickly approaching and many of us will be hosting some family get-togethers or attending parties. On top of that, we have all of those wintertime birthdays, baby showers and other types of parties to contend with.
I'm the type of person who prefers to make homemade cakes and cupcakes. I find that the bakery items are just too sweet for my taste buds and way too heavy on my wallet. For me…homemade is best!
Recently I had the opportunity to try out the Cake Boss Icing Duo and Decorating Set and I absolutely LOVE it! It's the easiest icing home decorating set that I've ever used! One of the really cool things you can do with this set is use two different colored icings at one time!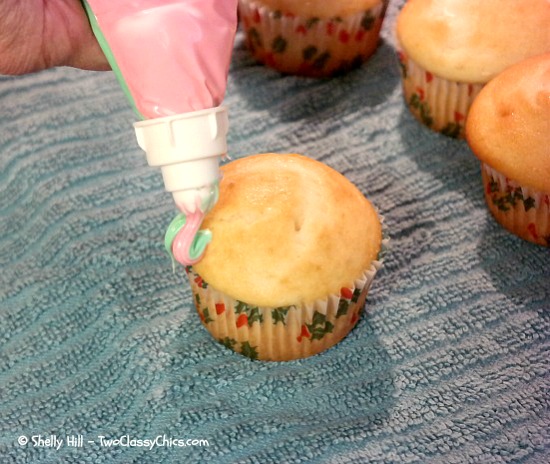 The Cake Boss Icing Duo and Decorating Set applies two different colors and even flavors of icing onto cakes, cupcakes, cookies and more with ease! The set includes six plastic decorating tips and eight dual-chamber icing bags along with directions on how to use it.
Product Features:
* The unique three-part coupler design assembles easily and helps keep frosting colors separate.
* Six different icing tips let you create two-color swirls, stars, flowers, shells and more!
* Eight 18″ dual-chamber clear plastic icing bags are disposable for easy cleanup.
* Additional icing bags are sold separately.
Last week I baked up a batch of homemade vanilla (white) cupcakes. I like to keep things simple so I lined my baking pan with paper liners and left them bake in the oven for 15 to 17 minutes or until done. I took them out and left them completely cool.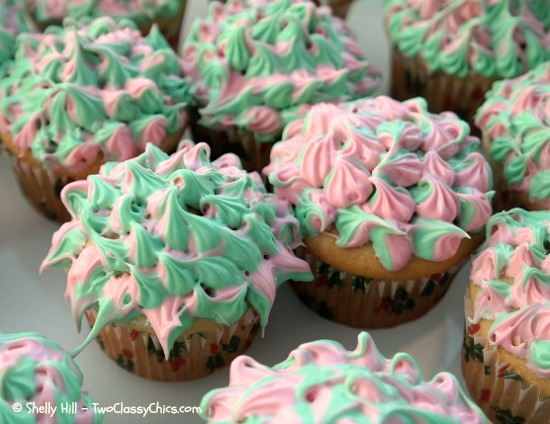 My little grand daughter selected the icing flavor (we used cream cheese) and she selected the two colors (pink and mint green). You make your own icing like we did or you can buy store bought and just add a few drops of food coloring to it. If buying store bought…one can of icing will do 18 cupcakes. Just divide the icing in half and color it with food coloring to any color that you like.
Assemble the decorating set (took me less than one minute to do) and place one color of icing in one side of the bag and the other color in the other side. You will pump out both colors together making this a quick and super easy process. I selected the decorating tip that I wanted to use and got busy. It took me less than 15 minutes to get all 18 cupcakes decorated. Pretty!
You can find the new Cake Boss Icing Duo and Decorating Set in various online and offline stores across the nation. I absolutely LOVE this product and will be using it a lot throughout the holiday season.

Disclaimer: Shelly H. has personally reviewed the product listed above. Shelly has not received any monetary compensation for her review. Shelly did receive a free product to try out so she could evaluate and use it for her review. Her thoughts & opinions in this review are unbiased & honest and your opinions may differ. Thanks!