A few years ago, I was introduced to a new writer and was pleased to be able to review her first book Grounded and I thoroughly enjoyed it! Today, I am excited to share the second book that continues the story of Annie Taylor and her adjustment back into family life at the farm. I could not wait to dive in and see where the author was taking us in this new release.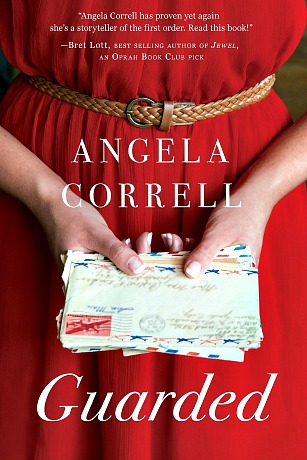 Guarded by Angela Correll
Publisher: Koehler Books (December 1, 2015)
ISBN-13: 978-1633931367
Synopsis:
Former New York City flight attendant Annie Taylor is adjusting to farm life when her grandmother threatens to tear down the old stone house, unable to finance a restoration after the summer fire. Annie's boyfriend Jake has severed his corporate life in Cincinnati and is jumping headlong into sustainable farming on the land next door. Their new relationship is wonderful–but can it last? As they take steps forward, a paralyzing fear of abandonment threatens to destroy her trust in Jake.
As Annie works to save the old stone house she finds letters written during World War II that reveal a family mystery and an Italian connection. Her grandmother is hesitant to uncover the secret, afraid of what it might mean to her family's name if the truth is laid bare. Comments from a nosy neighbor solidify Annie's fears about herself and when Beulah agrees for Annie to travel to Italy to search out the family mystery, Annie is happy for the time away to sort out all her feelings. In the meantime, Beulah is left with an unexpected Italian-Catholic houseguest who wreaks havoc with Beulah's Baptist ways and country routine.
As the family mystery in Italy unfolds, Annie is forced to face her own past. She is ultimately faced with a choice: will she let history sabotage the future?
My thoughts:
There are some novels that stick with you no matter how long it has been since reading it. Ms. Correll's first book was one of those. I was surprised by the depth of the story and it really hit home for me.
This new release is written in the same vein, with depth and descriptions that take you right into the story. I could really relate to the fear and insecurity that Anne was feeling. Losing a job and having to come home. Hearing what others think about you… and the fear of unknown and yet the overwhelming love of family that she had too. This author has a way with words that just wraps you up and sucks you right in to the homestead in Kentucky.
The author also takes you on an amazing journey through some old letters that were found and I could just imagine the feeling of loss and heartbreak – then the joy in finding secrets from the past. What a story!
This book takes you on a emotional ride from happiness and joy to sorrow and many feelings inbetween. A refreshing look at family today in a women's contemporary fiction setting. This is one that you need to check out.
Do you have to read part one, Grounded? No, but I think it would really fill in so much of the story for you and make the entire experience worth it!

Disclaimer: Chris has personally reviewed the product listed above. She has not received any monetary compensation for her review but did receive a free product to try out so she could evaluate and use it for this post. Her thoughts & opinions in this review are unbiased & honest and your opinions may differ.