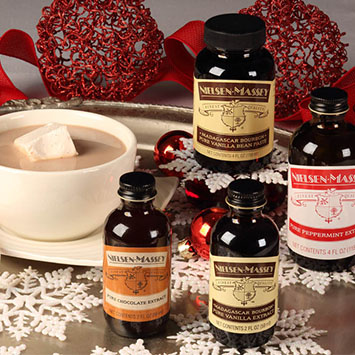 This holiday season, Nielsen-Massey Vanillas invites you to take a break from hectic seasonal shopping and planning to meet with friends and loved ones and warm up with cozy cocoa to create lasting memories.
This recipe for Gourmet Peppermint Hot Cocoa from Nielsen-Massey Vanillas is the perfect treat for a cozy night this holiday season. The rich cocoa in Nielsen-Massey Pure Chocolate Extract mixes with cool peppermint for a decadent dessert perfect for a relaxing evening or holiday extravaganza. Recipe makes 6 servings.
Gourmet Peppermint Hot Cocoa Recipe
1 cup unsweetened quality cocoa powder (Dutch processed)
1½ cups powdered sugar
¼ teaspoon salt
4 cups whole milk
2 cups half-and-half
1 teaspoon Nielsen-Massey Madagascar Bourbon Pure Vanilla Extract
½ teaspoon Nielsen-Massey Pure Peppermint Extract
¼ teaspoon Nielsen-Massey Pure Chocolate Extract
In a medium saucepan, combine cocoa powder, sugar and salt. Place over medium-low heat and gradually whisk in milk and half-and-half until combined. Stirring occasionally, heat to desired temperature, being careful not to let the mixture boil. Stir in pure vanilla, peppermint and chocolate extracts.
Before serving, top with a Vanilla Bean Marshmallow. For an extra blast of peppermint, drop a peppermint candy in the bottom of each mug before serving.