This is a sponsored post written by me on behalf of Spin Master Games. All opinions are 100% mine.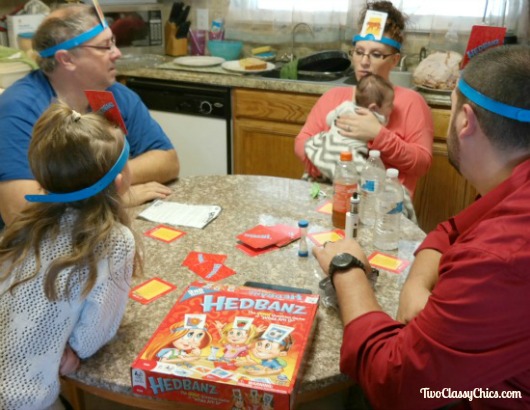 If you've been following this blog for the past few years you will already know that my family holds regular family game nights. We get together 2-3 times a month and play all sorts of board games, card games, electronic games and of course…when the weather is nice we are outside playing backyard games. We are a big gaming family!
Every year after our Thanksgiving holiday meal we sit down for one of our game days/nights. This year we decided to play HEDBANZ which is a quick question game of "What Am I?" This particular game is for ages 7 and up and for 2-6 players. On our particular game day we had someone as young as 6 1/2 and someone as old as 67 years playing this game. It's truly a FAMILY GAME that everyone will enjoy!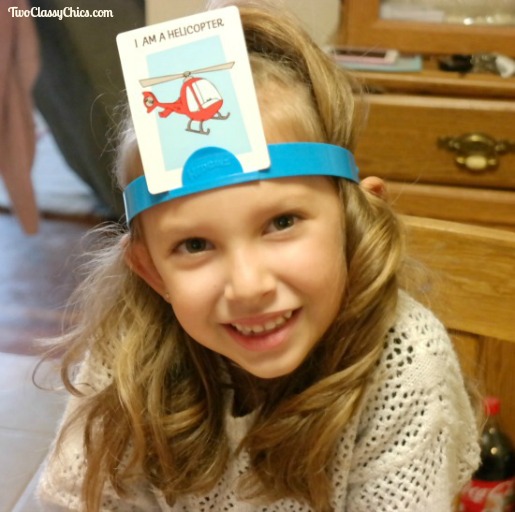 Game Includes: 72 cartoon cards, 24 scoring chips, 6 headbands, timer and a rule sheet. Everything you need to get started is included.
How to Play: Each player will put a headband on and will received a random card which is placed on their headband without the player looking at it. Each player will take a turn and try to guess "What Am I" by asking questions that the other players answer. First the player should try to figure out if they are an animal, food or a man-made object and then go from there. The player continues until either the timer runs out or they have correctly guessed "What Am I". If they guess correctly before the timer runs out, they earn a scoring chip and then the next player goes. Yup, it's really that easy!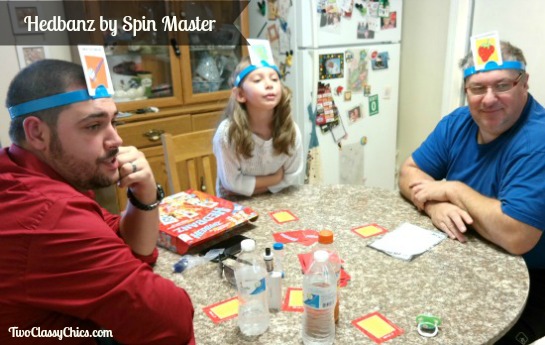 After our holiday dinner was done…we all sat down and played this game for 3 hours! Oh my gosh…it's so much! We would laugh and laugh at some of the things the players were guessing. Furthermore, I was super pleased to see how well my 6 1/2 year old grand daughter did while playing this game…she was better at it than some of the adults which was too funny! Everyone really got into the game and had a great time playing it!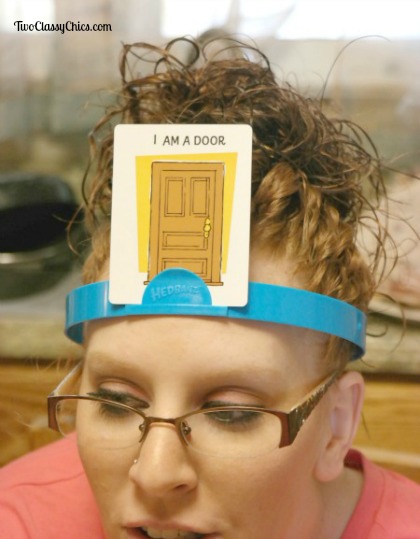 Hedbanz is by a company called Spin Master and in addition to this game they also have games called Would You Rather and Quelf. You can find these amazingly fun family games at retailers like: Kmart, Target, Walmart, Amazon and ToysRUs. You can buy HedBanz Game – Edition may vary
directly from Amazon for a great price.
* This post contains affiliate links. If you make a purchase, we may or may not receive a small commission which helps to support this site. Thank you!
If you are looking for the perfect game to pick up for this holiday season we highly recommend the super-fun HEDBANZ – The Quick Question Game of "What Am I?" to all of you! Head on out today and pick it up! We loved it!
For those of you who have played this game…please share your thoughts with my readers on why you love the game! For those of you who have never played it, if you have questions about it…please ask them in my comment form below and I'll try to answer them for you.
This is one fun family game that I know your family is going to love!