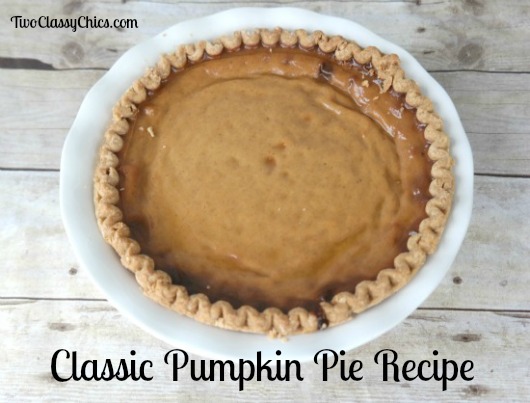 It's the time of year when pumpkin is the hottest item going! You can find pumpkin flavored coffee, ice cream, yogurt, bagels, waffles, pancakes, cakes, hot cocoa, bread, brownies and of course…the classic pumpkin pie!
Luckily for me and my family…we love anything PUMPKIN! Today I'm going to share with all of you my super easy classic pumpkin pie recipe. It's YUMMY GOOD!
You can top it with some whipped cream, frozen whipped topping, vanilla yogurt or whatever you like!
Classic Pumpkin Pie Recipe
1 1/2 cups pumpkin puree
1/2 cup milk
1/2 can evaporated milk
1/2 cup brown sugar
1/2 cups granulated sugar
1/4 teaspoon salt
1/4 teaspoon ground nutmeg
1/4 teaspoon ground cinnamon
2 large eggs, well beaten
1 teaspoon butter, softened
2 unbaked store bought pie crusts
In a large mixing bowl combine together the dry ingredients first and then add in the moist ingredients one at a time, mixing after each addition with an electric mixer. Mix until the batter is creamy and smooth. Pour batter into 2 unbaked pie crusts. Preheat oven to 350 degrees F and place your pie pans onto a baking sheet and then slide them into your oven. Bake for 25-27 minutes or until the center of each pie is done. Remove and let cool before serving.
Love the look of my ceramic pie plate? You can check out my review on the Corningware French White Pie Plate to learn more about it! I love that pie plate!
* This post contains affiliate links. If you make a purchase, we may or may not receive a small commission which helps to support this site. Thank you!