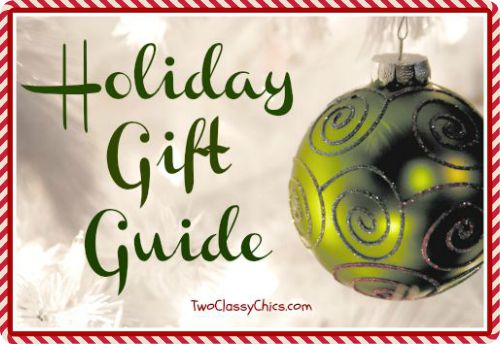 There is a special relationship between mother and daughter that lasts an eternity. Caboodles, who has been making and keeping memories since 1987, was inspired by a letter they received from one of their customers to showcase a new gift theme this holiday season. To honor the mother/daughter bond, they have created matching gift sets as a way to celebrate and capture precious holiday memories.
"We received a letter recently from a customer who recently lost her mother. She described her mother's Caboodle as a 'keepsake box of treasured memories'. It truly touched our hearts to think that our product is in some way associated with keeping the memory of her mother alive. It inspired us to create mother/daughter gift match-ups that would pay homage to that special relationship," stated Steve Schwalie, VP Sales and Marketing.
For over 28 years, Caboodles has grown up alongside its loyal fans – who were once young girls themselves – and now reaches a new generation. In the spirit of creating lasting holiday memories, Caboodles encourages gift givers everywhere to organize a mother/daughter match-up and join in the Caboodles tradition.
Below are four memory-making mother/daughter gift sets: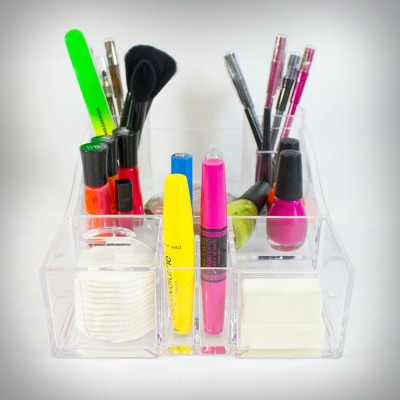 1. Caboodles® Acrylic Collection: These cases make it crystal clear that there is nothing more important than enjoying special family moments:
Mother: Crystal Clear™ Cosmetic Counter™ (available at Walmart, MSRP $15.97)
Mom can store her makeup collection in style. Features nine storage compartments of various sizes, one additional compartment with lid.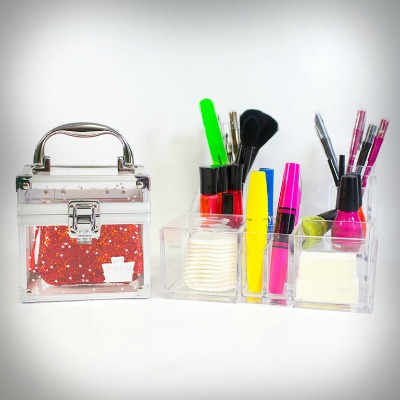 Daughter: Oh La La™ clear acrylic case with bonus wristlet in red glitter (available at Walmart, MSRP $9.88)
Everything's better with glitter! Features interior storage, secure latch, and handy wristlet for easy carrying.
2. Bring "joy to the world" – and everyday routines – with one of these Classic Caboodles®: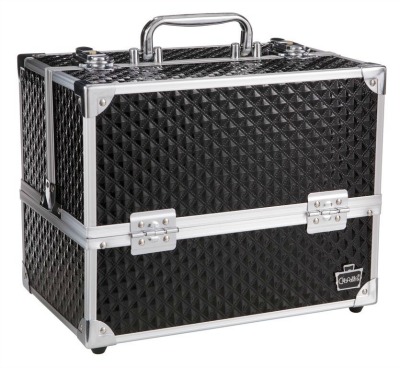 Mother: Lovestruck™ Black Diamond Train Case (available at Walmart, MSRP 29.88)
With six square cantilever trays, spacious interior storage, locking latch with keys, Mom can stay organized, chic and timeless.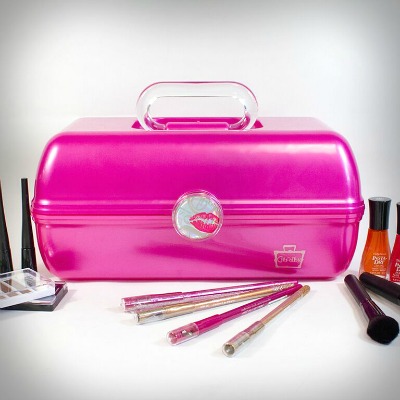 Daughter: On-The-Go-Girl™ (available at Walmart, MSRP: $12.97)
Perfect for busy girls looking to tote their treasures in style. Features an auto open tray, flip lid with mirror, removable accessory tray, spacious interior storage, secure latch and durable shell. Available in Fuchsia and Pearl Pink.
3. Carry keepsakes in classic style with these Caboodles® valets, available in new fabrics and colors: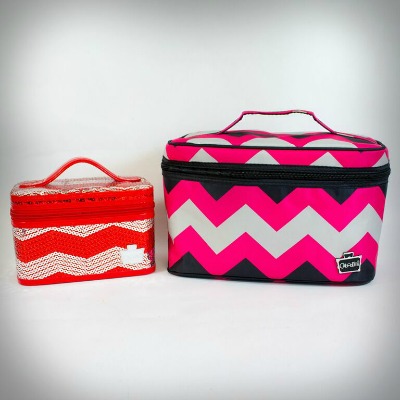 Mother: Glam Squad™ Soft Valet (available at Walmart, MSRP $9.97)
For glamorous mamas on the go! Features zipper closure, mirror in lid, carrying handle
Daughter: Go Glitter™ Mini Valet in red/silver sequin chevron (available at Walmart, MSRP $9.88)
Deck the halls in red glitter! Features zipper closure, interior storage, carrying handle
4. Fashionable, functional Caboodles® carryalls are the ideal accessory for any outfit: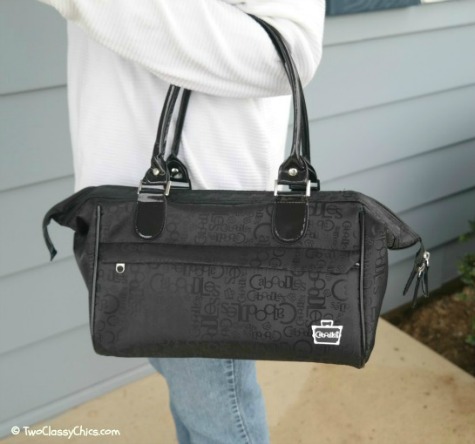 Mother: Envy™ Doctor's Bag (available at Walmart, MSRP $19.97 )
This multi-tasking purse is the stylish solution for busy moms. With a large open interior and ample pockets, there's room to store, makeup, hair brushes, perfume and other essentials (like all your kids' stuff).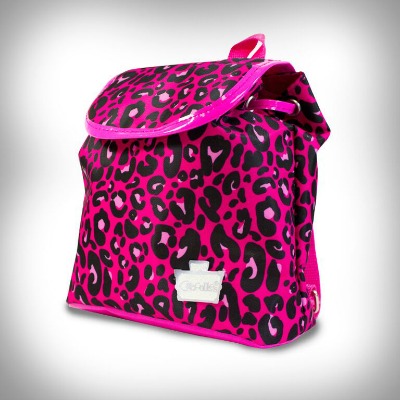 Daughter: Adorbs™ Mini Backpack in Pink Cheetah and Pink Arrow prints (available at Target, MSRP $9.99 )
The name says it all! With a pink patent PVC drawstring closure, adjustable backpack straps and a spacious pink-lined interior, it's a cute and convenient way to store and tote valuables.
My Thoughts: For this review I received the Envy™ Doctor's Bag to check out for all of you. I have to admit…I love Caboodles products and have several of them in my craft room to help organize various supplies. This particular bag is fabulous for organizing all of your beauty supplies and cosmetics. It's great for at-home use or for busy moms like me who do a lot of traveling.
It's styled like a high-end satchel bag with an outside zipper closure pocket on the front and a second one on the back. It has two carrying straps done in a faux black patent which I really love! To get inside the bag…you enter via the zipper entry that runs along the top. Inside it's completely lined in a pink & black polka dot fabric.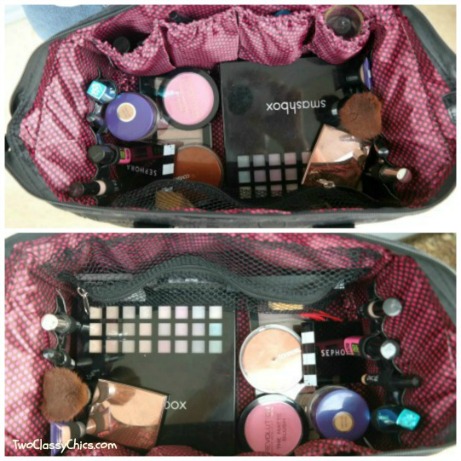 Once you are inside the bag…that is where the magic happens. There are oodles of different organizing features within this bag! The front inside wall of the bag has a see-thru mesh zipper closure pocket, the back inside wall has 4 small pouch-style pockets which is perfect for holding bottles. Each of the two short ends inside the bag have 4 elastic strap bands to hold various beauty items and make-up brushes. The bag has a flat bottom so it always stands upright.
As you can see…I have the bag loaded with my cosmetic and beauty products and there is still a ton of room still left in the bag. I love all of the organizing features because I can see everything and grab it quickly when I am applying my makeup. In addition, everything is nicely secured while I'm traveling. This bag is so stylish! I love how it looks sitting on my vanity top and when I'm out and about…everyone thinks it's a designer handbag! It's fabulous!
I have my eye on several of the new Caboodles designs for myself and for holiday gifts! I've always loved this line and now I'm in-love with it even more with this new stylish collection. You can learn more by visiting Caboodles online.
* This post contains affiliate links. If you make a purchase, we may or may not receive a small commission which helps to support this site. Thank you!

Disclaimer: Shelly H. has personally reviewed the product listed above. Shelly has not received any monetary compensation for her review. Shelly did receive a free product to try out so she could evaluate and use it for her review. Her thoughts & opinions in this review are unbiased & honest and your opinions may differ. Thanks!