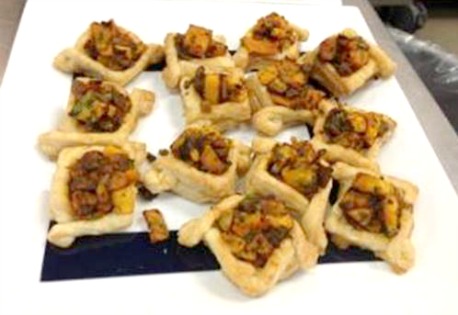 How many of you love eating butternut squash? I love using it in my fall recipes because it's in-season around here and readily available. Plus, it's affordable too. Today I'm sharing a guest recipe with all of you. It makes approximately 24 pieces. Great for all of your Fall get-togethers and parties.
With the weather cooling down, fall is the perfect time to enjoy the chill of the season with cozy fall meals. The experts at Paulding & Company commercial kitchen agree that Fall is a season to be celebrated with delicious home meals, and bellow is a recipe for Butternut Squash, Chestnut and Herb Filled Puff Pastry Hors d'oeuvres that will warm up any belly this season.
Butternut Squash, Chestnut and Herb Filled Puff Pastry Hors d'oeuvres Recipe
1 butternut squash, about 3 lbs. (you can also use kabocha)
2 Tbs. extra-virgin olive oil
1 jar or package peeled chestnuts (5-8 oz.)
salt & freshly ground pepper
Sauce:
1/8 cup coarsely chopped fresh ciilantro
1/8 cup coarsely chopped fresh parsley leaves
1 large garlic clove, minced
1/2 teaspoon paprika
1/2 teaspoon ground cumin
1/8 teaspoon cayenne, or to taste
salt to taste
1-2 Tbs. fresh squeezed lemon juice
2 Tbs. extra-virgin olive oil
1 package frozen puff pastry (I suggest DuFour which is an all-butter puff)
1 egg, beaten with a tablespoon water
Make the filling:
Preheat oven to 350°F. Top and tail the squash, halve it crosswise, put each piece flat-side down on the cutting board, and peel with a knife. Remove the seeds, then cut it into 1/2-inch cubes. Place in a large bowl, toss with the 2 tablespoons olive oil and season lightly with salt & freshly ground pepper. Spread on a parchment-paper covered sheet pan. Roast 20 minutes, until the squash is tender and starting to brown. Add the chestnuts and roast an additional 2 minutes, just to warm them.
While the squash roasts, make the sauce by combining the ingredients in the food processor (start with the smaller amount of lemon juice, and half a teaspoon of salt; you can always add). Pulse to puree to a sauce consistency.
Toss the squash with the sauce, and allow to cool. If you're making these hors d'oeuvres ahead, you can finish the pastry, fill the cases and freeze. Just remove from the freezer and reheat to serve.
For the puff pastry cases, raise the oven temperature to 375°F. The pastry sheet should be well-chilled so thaw it in the refrigerator, not at room temperature. Unfold the sheet, use a rolling pin to even it out and thin it slightly. Use two square cutters (try a three-inch and a 2 1/4 inch) to first cut the larger squares, then the smaller square inside each one. Once you get them all cut, refrigerate for 10 minutes. Once chilled again, brush the edge of the inner square with the beaten egg, and carefully fold the large square over it, so that the corner of the large square meets the edge of the small, doing this twice so that you have a high-sided case. Where the two sides cross, the corners will be a bit thicker. Brush the whole case with a little egg wash, refrigerate again for 10 minutes, then bake until lightly brown and puffed up. As you take them from the oven, squish the centers down to form the cup for the filling. Let cool, then heap in the squash mixture. Reheat before serving. The picture below was taken at our event, and shows what the group enjoyed. I wish I had a neater version, but I was very busy at the time someone took this picture and am happy to have at least this one!
About Paulding & Company – Founded by mother-daughter duo Terry and Tracy Paulding, Paulding & Company is a commercial kitchen and instructional/event space that specializes in creating innovative event ideas for families and corporate entities through public cooking classes and exercises. Located in the heart of the San Francisco Bay area, Paulding & Company inspired Disney/Pixar animators for the Ratatouille film and director Clint Eastwood for several projects.