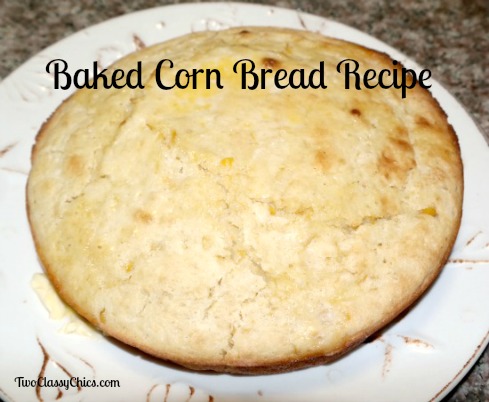 Corn bread…some people like it and others hate it. I have to admit, I wasn't a big fan of it until I tried my husband's corn bread recipe about 30 years ago. Ever since…I look forward to when he makes it which is typically with Thanksgiving, Christmas and Easter dinner.
One of the things I love about this recipe is that he uses creamed corn instead of kernels and for some reason…his corn bread isn't dry and crumbly like most others. It's moist and flavorful! If you love honey butter, try melting some honey butter and drizzling it over the top. YUM!
Sam's Baked Corn Bread Recipe
1 cup white corn meal
1 cup all purpose flour
1/4 cup granulated sugar
3 tsp. baking powder
1 tsp. salt
1/4 cup vegetable oil
1 cup milk
1 large egg, lightly beaten
20 oz. canned cream corn
Preheat oven to 350 degrees F.
Sift together the corn meal, flour, sugar, baking powder and salt in a large mixing bowl until well combined. In a separate bowl mix together the vegetable oil, milk and egg. Mix the wet ingredients into the dry ingredients. Stir in the 20 oz. of canned cream corn until everything is well combined.
Lightly grease a loaf pan or round cake pan. Pour the batter into the pan and use a spatula to get an even layer of batter. Place baking dish into the preheated oven and bake for 14 to 16 minutes or until done. (the top will be lightly golden). Remove from oven and let it sit in the pan for another 4-5 minutes before serving.
Note: This bread freezes well too! We will often make double and triple batches. Once it has cooled…wrap with plastic wrap and then place in a large zipper closure bag or cover the plastic wrap with aluminum foil. We keep ours in the freezer for up to 3 months with no problems at all.
* This post contains affiliate links. If you make a purchase, we may or may not receive a small commission which helps to support this site. Thank you!