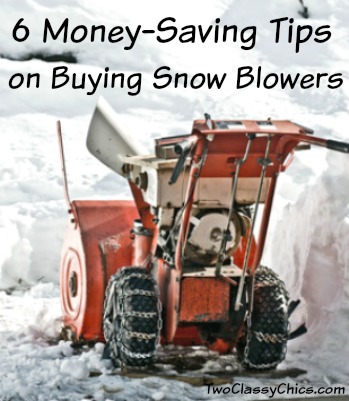 The first official day of winter starts on December 21st, 2015. For many of us…we've already seen some early signs of winter's arrival. For me personally, it's the time of the year that I absolutely hate! There's nothing fun about shoveling snow, using de-icing products and hauling out the heavy-duty snow removal equipment. It's back-breaking to say the least!
However, today I've got 6 Money Saving Tips for Buying Snow Blowers for those who need them.
1. Consider how much snow you get on average every year. If you live in an area of the country that gets just a little snow…a snow thrower might be a better choice for you than buying a full-size snow blower. In addition, factor in how often you think you will be using it? Is it worth getting the biggest and the best as compared to getting something cheaper that you only need to use a few times every season.
2. Look at the manufacturer's warranty and the store's return policy. Read the fine print and make sure the terms are something you can agree with before making the purchase. When looking at the warranty…how will your unit be repaired should it break down? Is there a deductible? Do you have to ship it off to be repaired? All of those are important factors to understand before making your purchase!
3. Consider buying used or refurbished models to save money or buy a new one during the end-of-the-season when retailers are trying to clear out their left-over snow removing equipment. Last year we got a name brand snow blower for 65% off the retail price by buying it the end of Spring!
4. Ask friends and family members about the models that they've used over the years and for recommendations. Get online and look for product reviews on websites that you can trust. Make a list of the models that interest you as you go along.
5. Test drive! A lot of the offline retailers will hold workshops or have floor models on display. Ask the salesperson if you can hold it in your hands, turn it on and play with it for a few minutes to make sure it's the right one for you!
6. Use coupons and manufacturer's rebates to maximize your savings and buy them on sale! A lot of your home improvement stores and department stores are competing for your business & many of them release coupons. Use them and if need be…ask for a price match if you find it cheaper elsewhere!
You can shop for Snow Shovels and Snow Blowers on Amazon
and have them shipped directly to your home or place of business.
* This post contains affiliate links. If you make a purchase, we may or may not receive a small commission which helps to support this site. Thank you!
By utilizing these 6 money-saving tips when you're buying a snow blower you can really save some dough!  Do you have any tips to share? If so, leave them in the blog's comment form below!