I have a love/hate relationship with my home office. It has plenty of space but has become the dumping ground for too much clutter. I have been working on it slowly and have requested that the hubby build me a new work station. The old one just does not cut it. With that new design comes updated storage and office supplies and I cannot wait!
You see, I have somewhat of an addiction to office supplies. So I thought I would share with you my top 5 stationery and office products I cannot live without.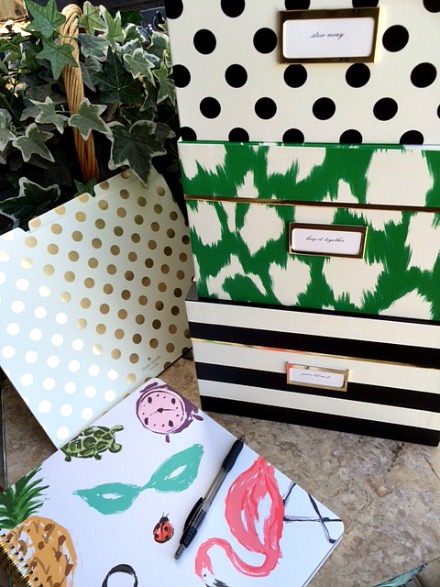 5 Stationery and Office Products I Cannot Live Without
1) PENS
I admit, I have an unhealthy addiction to pens. I love all kinds but especially G2 pens. I own them in multiple colors and guard them with my life! My family knows not to touch my pens! HA
2) Note Pads and Note Books
I cannot have enough note pads and note books. I have a notebook for each business I own along with topics I may be working on for business and teaching. I have notepads for client work and folio pads for my journal. Yes, sometimes it gets out of hand but I cannot not help it. This gorgeous notebook by Kate Spade from Urban Girl is the perfect example. How can you resist the gold spiral and sweet design??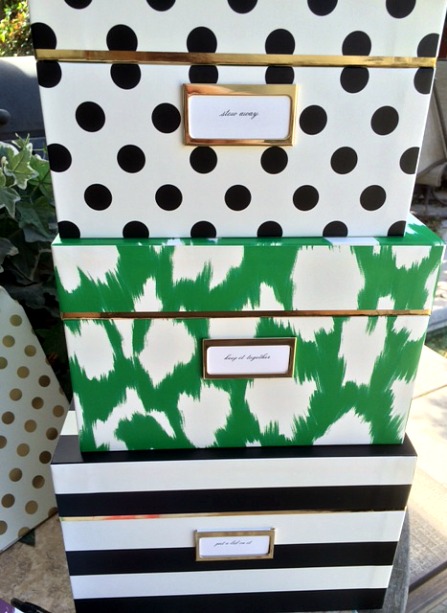 3) Nesting Boxes and Storage Pieces
I am working hard at getting rid of clutter and nesting boxes are the perfect solution! You can hide your office or home clutter in amazing sturdy nesting boxes like these from Urban Girl with the Kate Spade stripes, dots and IKat design. I am a fool for black and white patterns and these have splashes of gold too. Plus the fresh green IKat print is so trendy and adds some pop of color! I am so in LOVE Kate Spade designs.
4) Index Cards
Okay, I admit this is kind of weird because of my addiction to notepads and such. However, these are perfect for quick reminders, to jot and file must have notes, or even my grocery list. I love them in all colors but they must have skinny lines, not the oversize fat lines, which are hard to find so when I do find them, I stock up!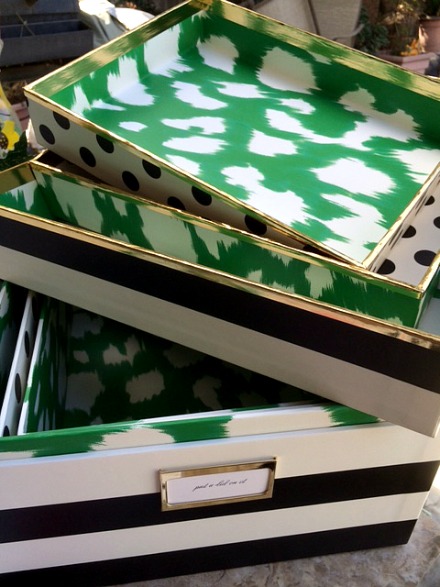 5) Desk and Office Organizers
I love pretty things that inspire me in my office and Kate Spade offers gorgeous items like the sweet Gold Polka Dot File Folders. How can you not want to keep your office organized when you have items like these to help you? Add in some pen organizers, tape dispenser and other fun desk sets and enjoy working at home or in the office again.
Urban Girl is where Office Supplies meet Fashion. Easily update and refresh your office with trendy, fun and stylish products for your office. I could seriously do some damage at this website!! I have it bookmarked for when my office is finally done and now I cannot wait.
Ready to do your office too or have someone on your gift list that would flip for this? Check out the sweet collections at Urban Girl and this giveaway below.
* This post contains affiliate links. If you make a purchase, we may or may not receive a small commission which helps to support this site. Thank you!
Disclaimer: Chris received complimentary product for review purposes. Prize provided by Urban Girl. Please read our Official Rules before entering this giveaway. We must receive all entries by the end date of the contest and the odds of winning are determined by the number of entries received. No purchase necessary to enter. Two Classy Chics is not responsible for prize fulfillment.