Christmastime is coming to town so quickly again this year! It is my favorite time of the year. I love the weather, the food, the decor, but most of all, the joy that the holidays seem to bring around. I try my best to spend time and visit as many family members I can. There are so many, and they seem to be spread out mostly in the state of California but also along the southwestern states. For those that I cannot get the chance to spend Christmas or New Year's Day with, I make an effort to let them know I am thinking of them. I try to personalize the holiday greeting cards I buy and send to them. Just recently, I was sent Peace. Joy. Color., a coloring book with 20 detachable Christmas-themed postcards for review!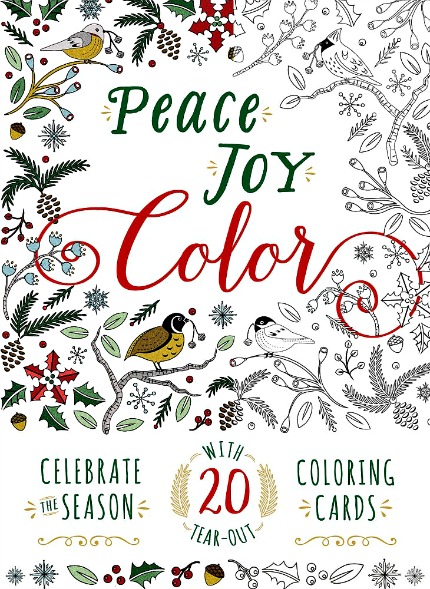 I was absolutely thrilled to have received Peace. Joy. Color. I have always enjoyed coloring books my entire life. It relaxes me, and helps my focus to better pay attention to detail.
It is always so difficult for me to buy anyone a present. I want to make sure they like it, so I usually get them gift cards within a greeting card, so they can get something they'll like.
Peace. Joy. Color. Holiday Cards allows me to personalize these holiday cards with a twist. I get to choose my own colors, and make it better than something bought of a shelf. It has me feel like i made a better effort and thought into their greeting card.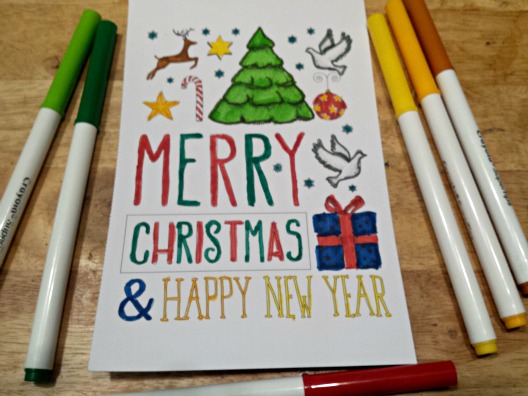 I had used thin markers on one of my postcards, thinking that a marker leaves a bolder color than colored pencils would. It did, but it was much too thick a point to get into the small, intricate details in most of the postcards. Since the cards are much smaller than a typical coloring book, I left it looking like my three year old niece colored it! A lot of it was out of the lines. So for the remaining cards, the fine point colored pencils will have to do.
The postcards are easily detachable, which is wonderful, because it keeps a clean edge instead of a ratty ripped up one. They're fantastic for not only greeting cards, but as gift tags or even decor.
There are so many beautiful images within Peace. Joy. Color. They range from fairly simple to extremely detailed. I love each one of them, I can't wait to finish them up and send them out to see what the family thinks. I never could have thought sending out cards could so much fun and colorful!
* This post contains affiliate links. If you make a purchase, we may or may not receive a small commission which helps to support this site. Thank you!
Disclaimer: Ruby has received no compensation for this post but was given free product for purpose of review. Her opinions and words are her own. Your thoughts & opinions may differ. Please read our Official Rules before entering this giveaway. We must receive all entries by the end date of the contest and the odds of winning are determined by the number of entries received. No purchase necessary to enter. All Content on this site is Copyright of the Two Classy Chics – All Rights Reserved