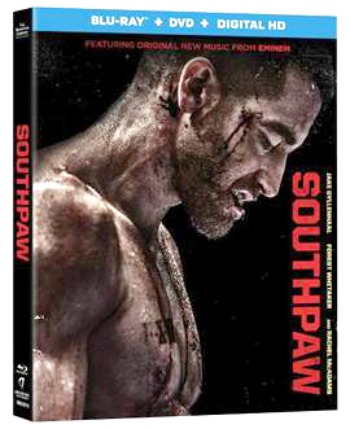 My favorite two genre of movies are: action and dramas. While I can tolerate watching other genres…these are the two that I'm most passionate about. If I had to guess…at least 80% of the movies in my DVD collection fall into those two categories.
Recently I had the opportunity to receive a complimentary copy of Southpaw starring Jake Gyllenhaal, Forest Whitaker, Naomi Harris and Rachel McAdams. It's a drama with just a little bit of action thrown in. The movie is available for purchase on October 27th, 2015 on DVD, blu-ray and On Demand from Anchor Bay Entertainment.
Movie Synopsis: Billy Hope seemingly has it all with an impressive career, a beautiful and loving wife (Rachel McAdams), an adorable daughter (Oona Laurence) and a lavish lifestyle. When tragedy strikes and his lifelong manager and friend (Curtis "50 Cent" Jackson) leaves him behind, Hope hits rock bottom and turns to an unlikely savior at a run-down local gym: Tick Willis (Academy Award® winner Forest Whitaker), a retired fighter and trainer to the city's toughest amateur boxers. With his future riding on Tick's guidance and tenacity, Billy enters the hardest battle of his life as he struggles with redemption and to win back the trust of those he loves. For more information about the film you can visit SouthpawFilm.com.
My Thoughts: I've been a huge fan of professional boxing for over 25+ years. While I enjoy the professional sport…I wasn't sure if I would enjoy a movie centered around it. With that said, I love a lot of the previous films that star Forest Whitaker, so I just had to see this one!
The movie is extremely well-acted and has a fantastic story line that draws you in…right from the beginning and through to the end. It starts off showing you how successful boxing star Billy Hope is and how one day he loses it all when tragedy strikes. He hits rock bottom and  becomes friends with a retired fighter & trainer who agrees to work with him. With his new trainer's guidance & friendship…Billy Hope tries to climb back up from the gutter and tries to reach success again in his personal and professional life.
I won't tell you the ending of the story on whether he makes it or not (I don't do spoilers) but I will tell you that this is a great movie and one that you need to see! While some things were totally expected in the story line…other things were not and were great surprises along the way.
On my rating scale I'm giving this drama-filled movie 7 1/2 popcorn buckets out of 10 popcorn buckets. It's a great flick and perfect for movie date night with your significant other!

Disclaimer: Shelly H. has personally reviewed the product listed above. Shelly has not received any monetary compensation for her review. Shelly did receive a free product to try out so she could evaluate and use it for her review. Her thoughts & opinions in this review are unbiased & honest and your opinions may differ. Thanks!