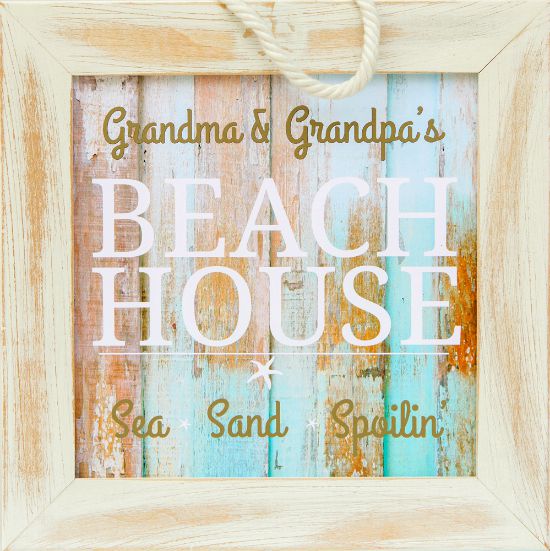 One of the greatest joys in life is being a grandparent. It's a special bond that grandmothers and grandfathers develop and enjoy with their grandchildren. Don't get me wrong…being a parent is the best thing in life but becoming a grandparent runs a close second.
I'm very fortunate that I have 2 very special grandchildren in my life. All of my maternal and paternal grandparents are gone and all were a great example of how special a grandparent & child relationship can and should be.
The holiday season is coming and I am very excited to feature the Grandparent Gift Company in the Two Classy Chics 2015 Holiday Gift Guide. This company sells some of the most unique and beautiful grandparent gifts that I've ever seen!
When you shop at the Grandparent Gift Company you will find personalized gifts, picture frames, coffee mugs, letter openers, holiday ornaments, pie plates, grandchild keepsakes, greeting cards, grandparent brag books and so much more! It's truly your one-stop grandparent gift store!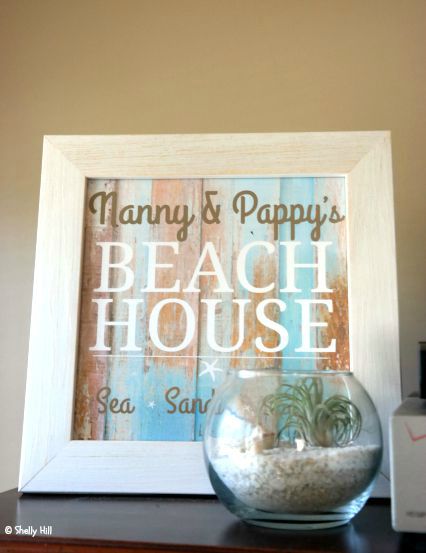 As most of you know…we own a beach house. We decorate our primary home and our beach house in a coastal decor. We love anything that has to do with the beach and ocean. In addition, we are grandparents to two beautiful little children.
Recently I received the Personalized Grandparent Beach House Sign to review for all of you. Before I get started…let me tell you, the ordering process is super easy and you get your personalized items super quick. It doesn't take weeks with this company! Plus, you can get this item personalized for FREE. Yes, FREE!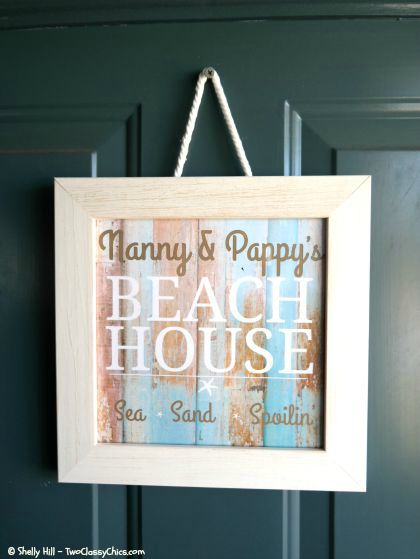 The Beach House Sign measures 10″ by 10″ in size. We had our's personalized to say "Nanny and Pappy" since that is the names that our grandchildren call us by. The frame is made out of distressed wood which really gives it that coastal look. The design is framed underneath plexi-glass and I really appreciate that since things go flying off my walls with grandchildren in the house.
This is a very versatile decorating piece. There is a hanging rope at the top so that you can hang it on a wall, door, peg, knob, etc. On the back is an easel so that you can sit it on a bookshelf, desk, counter-top, mantle or vanity-top. If you look at the photos here in my post you will see it hanging on my front door, on a wall in my kitchen and sitting on the top of my entertainment center in my family room. Geesh, I just can't decide where to put it!
I absolutely LOVE this item! Every year we take the grandchildren down to our beach house and they love it there! This beach house sign is a perfect reminder of all of the great memories we are building with our grandchildren there. It's gorgeous!
Love this personalized grandparent's sign but don't own a beach house? Don't worry…it's available in lake house and home too!
* This post contains affiliate links. If you make a purchase, we may or may not receive a small commission which helps to support this site. Thank you!

Disclaimer: Shelly H. has personally reviewed the product listed above. Shelly has not received any monetary compensation for her review. Shelly did receive a free product to try out so she could evaluate and use it for her review. Her thoughts & opinions in this review are unbiased & honest and your opinions may differ. Two Classy Chics is not responsible for delivery of any giveaway items won from this blog. We are not responsible for injury or mis-use of any products won from the Two Classy Chics Blog. Please read our Terms of Service & Disclaimer Policy before entering our giveaways. Thanks!