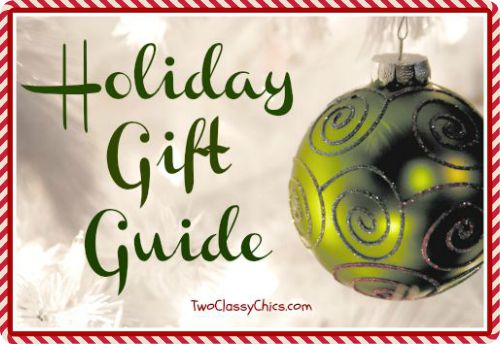 As the seasons change women change out their wardrobes. For me personally, one of the first things I change out is my handbag followed by footwear and then clothing.  I find it easier to do the handbag first and then follow-up with other items in my wardrobe.
When I go shopping for a new handbag I am looking for several things.
1. It has to be functional…meaning that it needs to be large enough to carry all of my "stuff" and have some organizational features built in it. I'm a busy mom, wife, grandmother and business woman, I carry a LOT of stuff with me and need to be able to find it quickly.
2. I want it to last more than just a few months so I am looking for high-quality bags that will last me for years. Trendy handbags that last for a few months are a waste of my time and money. A nice handbag is an investment and you want it to last for a few years.
3. Style. I don't want my handbag to look like something my 66 year old mother carried in the 60's, nor do I want it to look like something a 16 year old would carry today. I want a REAL woman's handbag!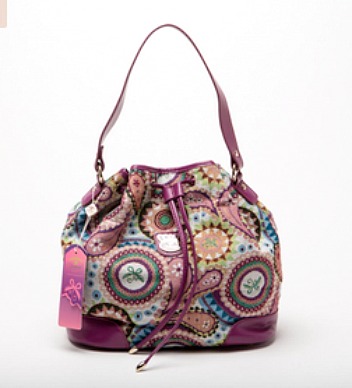 Let me introduce you to Fricaine  who makes high quality fashionable products from globally-sourced exotic fabrics that accentuate the tastes and preferences of their customers.
The brand offers a refreshing fashion experience by helping customers make bold fashion statements. The carefully selected lines of very durable handbags employ bright colors, are well-crafted and made from authentic custom fabrics and hardware. Women who carry the handbags exude an exotic and highly fashionable image that perfectly matches and complements their personal style.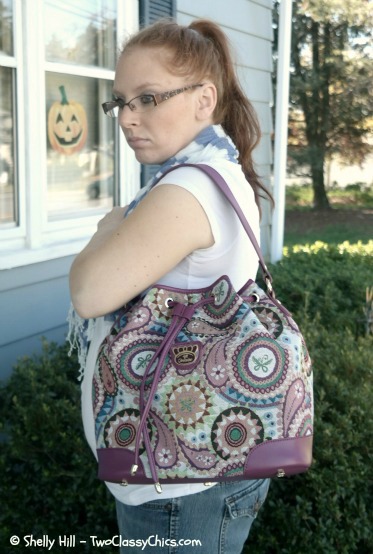 For this review I received the Fricaine Sugar Buxx Exotic Handbag to review for all of you. I have to admit…I do own another Fricaine handbag and have used it for several months now and just love it!
One of the things about the Fricaine Handbags that I love is how unique they look. They are NOT cookie-cutter bags that you see in all of the department stores. Second, I love that they use mixed materials in their construction which makes a light-weight but durable bag.
This particular handbag features a 100% cotton jacquard fabrication with a gorgeous print. That print is accented with micro-fiber leather which gives durability to the bag.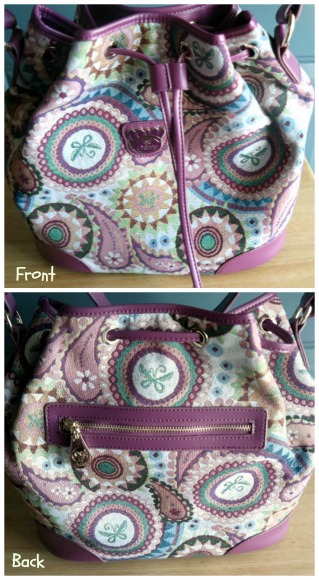 The outside of the bag is beautifully constructed with leather patchwork corners, a flat leather bottom with 5 metal feet and a back outside zipper-closure pocket. To get inside the bag you will adjust the drawstrings to open up and then you will find a heavy-duty magnetic closure which allows you to get inside the bag.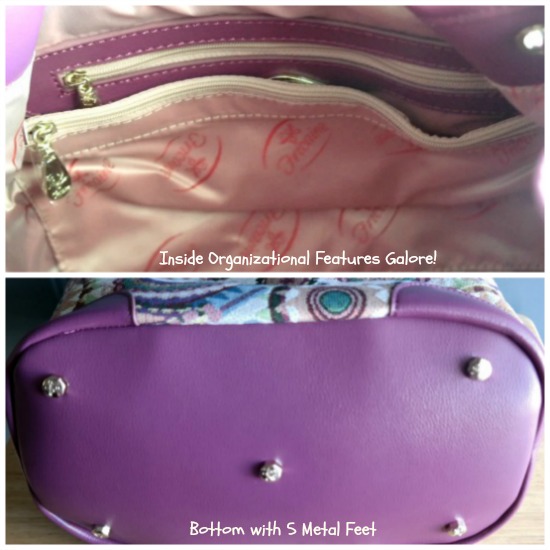 The inside of the bag is beautifully lined and has a front-wall cellphone pocket plus an additional pocket. The back-wall has a large pocket and 2 zipper-closure compartments. I love keeping a few cosmetics in the one zipper-closure compartment and some smaller items that I want to keep secured in the other one.
All of the metal hardware on this handbag is forged with real gold-plated material with anti-soul treatment which means it will never corrode. That gold-tone hardware will always look beautiful.
This Fricaine handbag is absolutely fantastic! You can use it as a shoulder bag or hand-carry it. I love how light-weight it is and it sits comfortably on my shoulder & doesn't dig in. When I sit it down on the counter, seat of the car or on a table…it doesn't tip over thanks to the flat bottom with 5 little metal feet.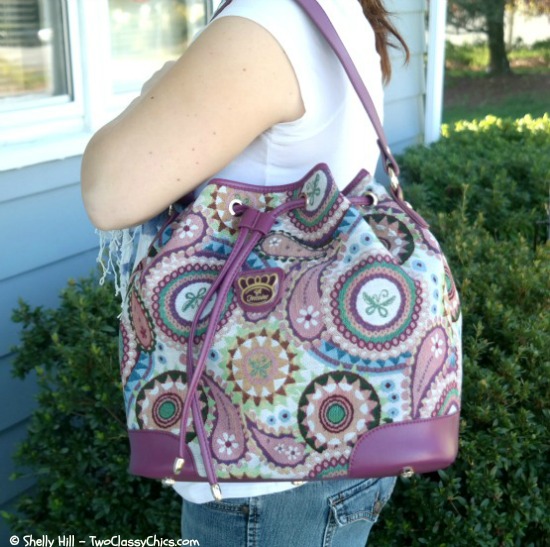 I can use my handbag every day of the week! It can be taken out for casual fun or if you are a business woman like myself…it can go to the business office too! Even though the predominant color is purple, there are other colors like green, orange, red, turquoise, coral, teal, etc. that make up the pattern of the jacquard. You can pair it up with just about everything you have in your current wardrobe.
I just love my new handbag and will be using it throughout the Fall & Winter seasons. You can check out this bag and many others by visiting Fricaine online. Plus, when you visit their website you can sign up for their monthly giveaway for a chance to win a bag! Yay!
Reader's Discount Code: Get 50% off your purchase (including sale items) when you use coupon code CLASSYCHICKS during the checkout process. Coupon code valid through November 30th, 2015.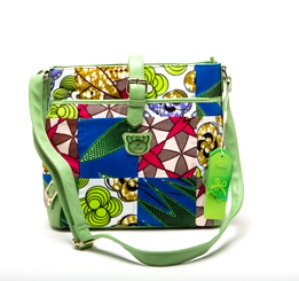 Giveaway: One lucky winner is going to win a Fricaine Alice Crossbody Exotic Bag. This is shown above and you can learn more about it by visiting their site. Reg. $128.00 Sale $90.00.
Giveaway Details: This giveaway is open to residents of the US ONLY age 18 and over. Please read our Terms of Service & Disclaimer Policy before entering. This giveaway will close on November 11th, 2015 at 11:59 pm EST time. No purchase necessary to enter or win.
Mandatory: If you enter this giveaway you are giving TwoClassyChics permission to release your name and email address to the sponsor. Your info will be used for their marketing purposes. At the conclusion of this giveaway…all entrant's email addresses will be turned over to the sponsor along with the winner's information.

Disclaimer: Shelly H. has personally reviewed the product listed above. Shelly has not received any monetary compensation for her review. Shelly did receive a free product to try out so she could evaluate and use it for her review. Her thoughts & opinions in this review are unbiased & honest and your opinions may differ. Two Classy Chics is not responsible for delivery of any giveaway items won from this blog. We are not responsible for injury or mis-use of any products won from the Two Classy Chics Blog. Please read our Terms of Service & Disclaimer Policy before entering our giveaways. Thanks!