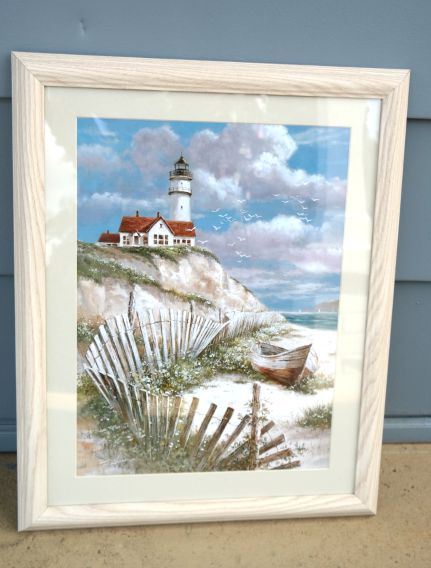 The holiday shopping season is upon us and many of us are trying to get through our gift-giving list. For myself personally, I started my shopping on September 1st and hoping to be completely done by December.
If you are looking for a great holiday gift for someone who has everything, I think framed artwork is the way to go. It's a gift that won't be tucked away in a drawer or hidden away in a closet. Nope, it's always displayed proudly on a wall and every time they see it, they will think of you!
Recently I received the Lighthouse with Deserted Canoe by artist T.C. Chiu from FramedArt.com to review for all of you. Let me tell you…the photos don't do this piece any justice! Once you see it in person…it's absolutely GORGEOUS and the detail & coloring is fantastic!
If you've never ordered from FramedArt.com let me tell you a little bit about them. They have thousands of different prints available! Once you select the print that you would like you will then choose if you want it as an art print, laminated print, framed art print or as a wall canvas.
The next thing you will need to decide is on the type of frame that you would like, color of frame and size. Next is your mat selection (if you want one) and you can choose from 1, 2 or 3 mats along with the color and width size. Lot's of matting options are available. Finally, you will choose your glass selection & glass finishing.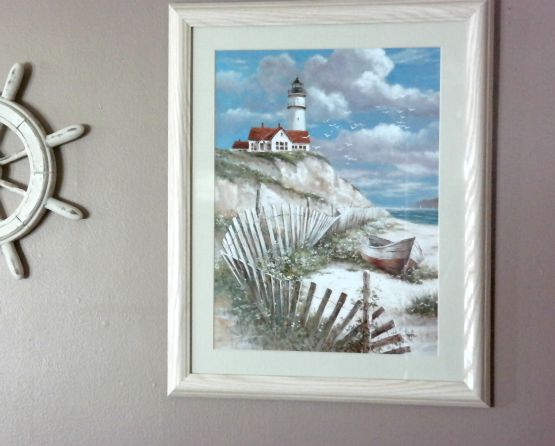 The entire ordering process walks you through all of the choices available to you step-by-step. I really LOVE that you have all of those options available to you as it allows you to be the creative designer!
The Lighthouse with Deserted Canoe print measures 17″ by 21″ in size. I selected 1 mat and a natural colored frame for my particular piece and had it framed under clear plexiglass. With kids running around…I prefer plexiglass just in case anything goes flying off of my walls.
Once you place your order you receive an email confirming your order and when the company ships your order you will receive the tracking information. You are kept informed the entire time!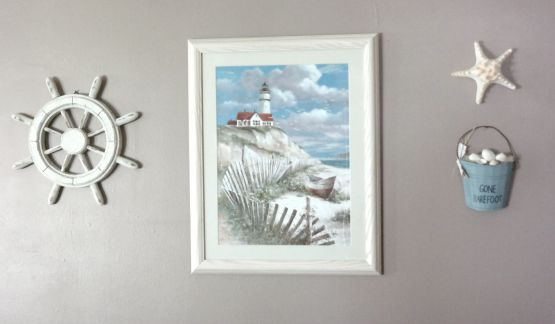 My order arrived quickly to my home and it was extremely well-packed. My framed artwork was nice & secure inside the box and was super easy to unpack. It's ready to hang and I had it up on my wall in the family room within 10 minutes!
The lighting in my family room is really terrible so I couldn't get great photos of it. The very first photo in the post shows it outside where the lighting was definitely better. The rest of the photos were taken in my family room. I just LOVE LOVE LOVE this art print!
Head on over to FramedArt and take a look at all of the beautiful artwork that they have to offer. If you love scenic beach art pieces click here to see those!

Disclaimer: Shelly H. has personally reviewed the product listed above. Shelly has not received any monetary compensation for her review. Shelly did receive a free product to try out so she could evaluate and use it for her review. Her thoughts & opinions in this review are unbiased & honest and your opinions may differ. Thanks!