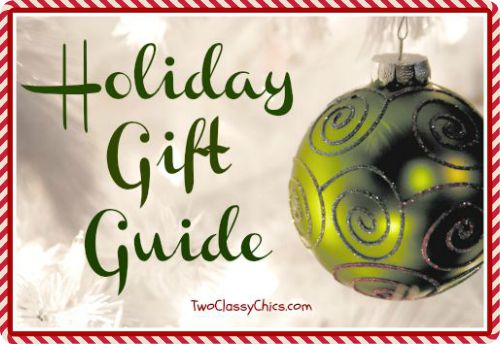 Every year I struggle around the holiday season to come up with the perfect Christian gifts for my mother and my mother-in-law. Both women are hard to buy for but when it comes to any item that they can express their faith…well, that's always a winner!
Recently I was introduced to Kerusso which is an online Christian gift store. They sell travel tumblers, Christian t-shirts, key chains, flashlights, tank-tops, hoodies, Christian jewelry and more! They also have Breast Cancer Awareness and graduation gifts too!
For this review I selected 2 items to feature for all of you. I am putting together a gift bag full of gifts for my mother this holiday season and both of these items will be in the bag.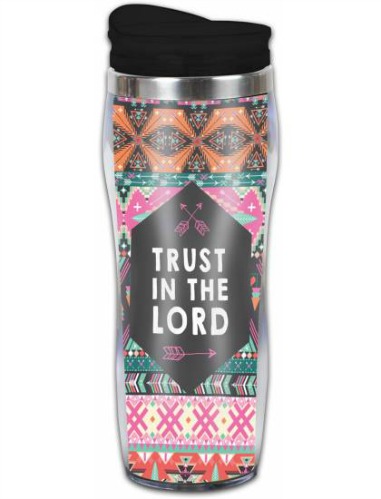 The "Trust in the Lord Christian Travel Tumbler" is the perfect gift for someone who is always on-the-go like my mother! It's a double-walled insulated tumbler so you can use it with hot or cold beverages. It has an easy-to-operate screw-on cap with a locking mechanism to prevent spillage. It's a tall & slender travel tumbler so it should fit within most auto cup holders.
The design is inside the travel tumbler between the two insulating walls. One side says "Trust in the Lord:" and the other side says "With All Your Heart Proverbs 3:5". I love that it expresses your faith and gives you inspiration too!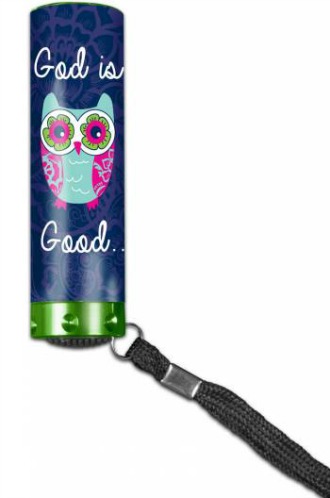 The second item that I selected to feature is the "God is Good Owl Flashlight" which is absolutely adorable! My mom and I share a love for owls so it was really hard to NOT keep this one for myself. The design is of an owl and it says "God is Good Owl the Time" and refers to Psalm 100:5.
The flashlight is a miniature one that is perfect for mom to keep in her purse or in the glove box of her car. It has a bright LED light, a carrying strap and operates with a simple push button. Oh yeah…batteries are included so you don't need to buy those! Everyone needs a good little LED flashlight in their purse, briefcase, tool box, household drawer and/or glove box!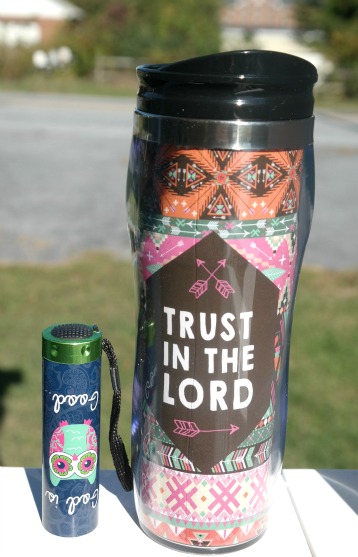 I think both of these Christian gift items are just perfect for my mother this holiday season and I know she is going to love them! In the gift bag that I'm making up…I'm going to include a bag of her favorite coffee, a box of her favorite hot cocoa, the travel tumbler and flashlight from this review and a gift card. I love putting together gift packages just like this for my family and friends!
Head on over to Kerusso and check out all of the lovely Christian gifts that they have to offer.

Disclaimer: Shelly H. has personally reviewed the product listed above. Shelly has not received any monetary compensation for her review. Shelly did receive a free product to try out so she could evaluate and use it for her review. Her thoughts & opinions in this review are unbiased & honest and your opinions may differ. Thanks!