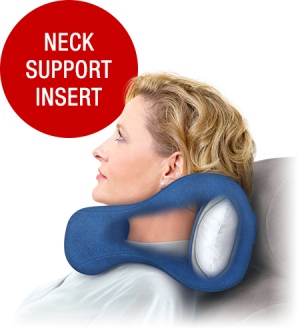 ** 2015 Holiday Gift Guide **
Today I would like to introduce you to the online store called Sunshine Pillows who sells a wide variety of ergonomic pillows, travel pillows, microwaveable heating packs and cold packs.
In the past I have had the pleasure of reviewing several products from Sunshine Pillows and to this day…I still use every single product that I've reviewed over the years. You can find all of my reviews by searching our archives for Sunshine Pillows.
One of the best holiday gifts you can give someone is the the gift of improved health. I truly believe that the Chiropractic Neck Support Pillow is one of those products that can improve health and reduce pain & discomfort. While I am no doctor, I can share my personal experience with all of you.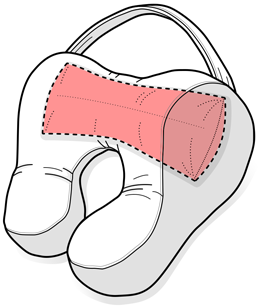 The Chiropractic Neck Support Pillow wraps around your neck, has a hard column at the neck band to provide added support to the neck. You can use it while sitting up in bed, in your favorite chair, while traveling on a plane or while sitting in a car. It can be used any where that you go!
The neck support pillow includes a supportive column for extra-strong neck care. It contains flax seeds. The seeds are flexible, therefore, you get the firm neck support without sacrifice the comfort. There is a zipper opening allowing for easy removal of extra neck support insert so that you can adjust the firmness by adding or removing materials. This will give you a truly "customized" neck support pillow.
Over the past few years I've shared on this blog several times about the chronic pain that I suffer with. I have pain from head-to-toe every day, for over 25+ years now.
About 6 years ago a doctor recommended that I use a "travel neck pillow" to help support my neck & head to see if that would help reduce my chronic migraines, TMJ jaw pain and the upper shoulder pain. I blew that recommendation off because I didn't believe a neck pillow would help. Boy…was I wrong.
Fast forward to 3 years ago when I first was introduced to Sunshine Pillows and tried out one of their travel neck pillows. Since that time…I've used several of their travel neck support pillows to give myself comfort from pain.
3 weeks ago I got the new Chiropractic Neck Support Pillow and wow…what a difference it has made in my life! While their travel neck pillows are great…this pillow is even better!
For myself personally, I didn't need to make any adjustments to the support but I love that I can adjust that if the need arises. The cover is removable and you can toss it into your washing machine or hand wash it when it needs a cleaning. The pillow also came in a drawstring storage bag and I love that since we frequently travel.
Since receiving it…my jaw & neck hurt less and my migraines don't seem to be as bad or last as long as they had before. While this hasn't stopped the migraines…it sure has helped reduce some of the pain! Finally…I found that these types of neck pillows help me sit up straighter which improves my posture. I LOVE LOVE LOVE this neck support pillow!
* This post contains affiliate links. If you make a purchase, we may or may not receive a small commission which helps to support this site. Thank you!

Disclaimer: Shelly H. has personally reviewed the product listed above. Shelly has not received any monetary compensation for her review. Shelly did receive a free product to try out so she could evaluate and use it for her review. Her thoughts & opinions in this review are unbiased & honest and your opinions may differ. Two Classy Chics is not responsible for delivery of any giveaway items won from this blog. We are not responsible for injury or mis-use of any products won from the Two Classy Chics Blog. Please read our Terms of Service & Disclaimer Policy before entering our giveaways. Thanks!