I'm a self-professed bath, body and beauty diva. Seriously, I can not walk into a store without visiting their bath, body and skin care displays. While I do have a few favorites that I buy regularly, I'm also the type of gal who loves buying new products and experimenting with them. Matter of fact, I believe every woman should use a variety of different products to suit their beauty needs.
Today I'm here to talk to you about a new line of results-oriented skin, body, and haircare products from MIXOLOGY Natural Custom Blending by Aromafloria. This modern apothecary blending bar allows you the opportunity to mix your own custom treatments based on your particular needs. Women love to pamper themselves so this would make a great gift idea this holiday season!!!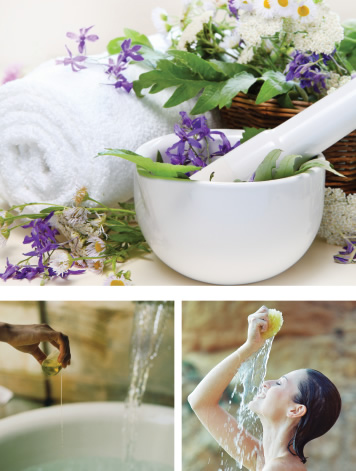 Here are the key benefits of why you should try Do-It-Yourself Beauty Products:
* Increased effectiveness of massage, body treatments, manicures or pedicures
* Certified organic ingredients that are both vegan and eco-friendly
* Selection of nine fragrance-free base products and eight essential oils to customize both the aromatic experience and wellness benefits of each blend
This new collection of skin, body, and hair care products individualizes your aromatherapy experience– is as easy as 1, 2, 3.
* Select your preferred base: Sugar or Salt Scrub, Body Butter, Massage/Bath & Shower/Hair & Scalp/Facial Oil, or Bath Salt.
* Add 2-6 drops of your preferred essential oil or essential oil blend as desired. (Rosemary, Lavender, Eucalyptus, Patchouli, Peppermint, Orange, Tea Tree and Spearmint).
* Mix, smell, and enjoy!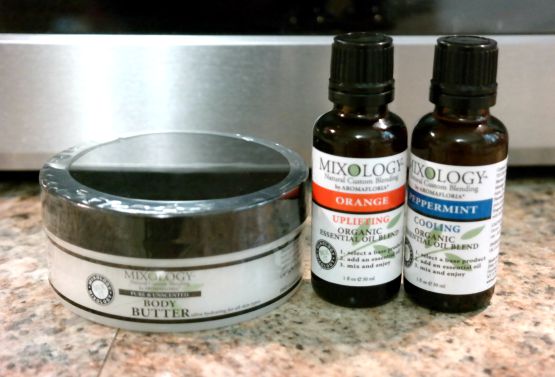 I recently had the opportunity to try this out for myself. I received the MIXOLOGY Pure Unscented Body Butter and 2 Essential Oils (Peppermint and Orange).  My kit also came with a card that explains to you on how you mix and use these products. Basically…you add 2-6 drops of your preferred essential oil to the body butter base and stir. You then apply the body butter to your body as you normally would.
You can use more of the Orange essential oil and less of the Peppermint or whatever you prefer. For me personally, I liked having the orange fragrance a little stronger than the peppermint, so that's how I mixed up my body butter. If you like a more minty fragrance…then you would increase it. You can use one, two or however many essential oils that you would like. If you like unscented beauty products…then just buy their bases. It's really that simple and it gives you total control.
I got my kit a week ago and I just love it! The Body Butter is rich & creamy. I love how it feels on my skin. The essential oils are pure and smell exactly as their names imply. These products are top-notch and I love that a company has finally come out with Do-It-Yourself Beauty Products like these!
* This post contains affiliate links. If you make a purchase, we may or may not receive a small commission which helps to support this site. Thank you!

Disclaimer: Shelly H. has personally reviewed the product listed above. Shelly has not received any monetary compensation for her review. Shelly did receive a free product to try out so she could evaluate and use it for her review. Her thoughts & opinions in this review are unbiased & honest and your opinions may differ. We are not responsible for injury or mis-use of any products won from the Two Classy Chics Blog. Please read our Terms of Service & Disclaimer Policy before entering our giveaways. Thanks!