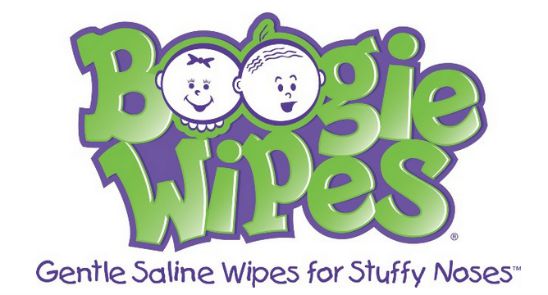 The first saline nose wipe was created in 2007 by two moms who were frustrated with trying to put saline drops into their young children's noses. They knew there had to be a better way to treat sinus problems caused by colds and other illnesses than drops and dry tissues. In a moment of mom genius, they decided to moisten a tissue with the drops and use that to wipe off and soothe runny, gunky noses. It was then the idea for Boogie Wipes began.
In 2012, Boogie Wipes joined the Nehemiah Manufacturing family of consumer brands. Based in Cincinnati, Ohio, Nehemiah is committed to introducing products that meet the specific needs of busy moms and dads. Nehemiah designs, manufactures, markets and sells brands including Kandoo, Downy Wrinkle Releaser Plus, Febreze Laundry Odor Eliminator and Dreft Home Products. To learn about Nehemiah and the products it creates for families visit www.nehemiahmfg.com/our-brands.
Nehemiah Manufacturing's broader mission is to Build Brands, Create Jobs and Change Lives. Nehemiah works with social service agencies in inner-city Cincinnati to provide work opportunities to individuals who have barriers to employment.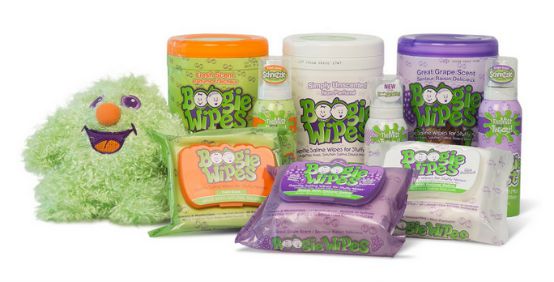 About the Product
With allergies in full force, you may feel like your home is a boogie battlefield. From runny noses, to sneezes to dry itchy noses it seems as though your poor family cannot catch a break. Boogie Wipes has the solution to this problem and can spring clean the icky feelings right up. Boogie Wipes and Boogie Mist work together to relieve these awful symptoms and are great products the whole family can use.
Boogie Wipes are made with saline to dissolve boogies (mucus) caused by the common cold, allergies or otherwise booger-filled kid moments. Extra soft and scented in Great Grape, Fresh Scent, Simply Unscented and Boogieberry, Boogie Wipes are recommended by Pediatricians as a gentle, effective alternative to a dry tissue.
Boogie Mist is the powerful sidekick to the Boogie Wipe. Boogie Mist is a non-medicated sterile saline mist that works quickly inside the nasal cavity to ease congestion caused by boogers that won't budge. Kids love the scented applicator tip, a.k.a. "Schnozzle" available in Fresh and Grape scent as well as Unscented.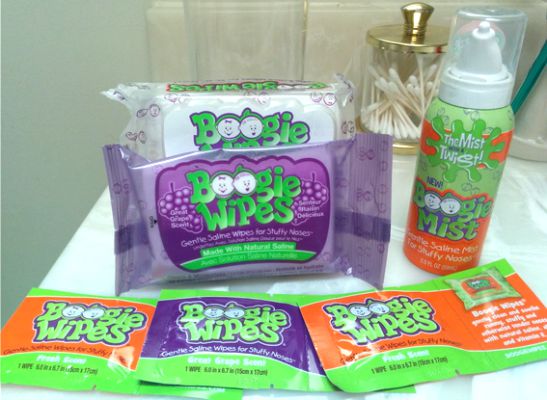 My Thoughts
I believe that the Boogie Wipes line has great products for anyone who takes care of children. Noses run throughout the year due to many different factors such as having a cold/flu, having some type of allergy, crying or being in the cold air. On occasion, regular tissues are dry and a little rough and can cause your nose to be raw and red from blowing. Instead of using a regular tissue, why not try Boogie Wipes? Although specifically used for children, boogie wipes can be used by anyone.
The wipes are soft and damp with saline solution which can be used without chaffing or burning your nose or your child's. They can also be used to wipe food off of your child's face after a messy meal. Keep them in your diaper bag, so you always have them with you, because you never know when the runny nose might strike. Although Boogie Wipes are a bit expensive for "wipes" they really get the job done without causing irritation. If you are interested in trying out Boogie Wipes, visit their website to print off a $0.50 off coupon that can be used for any one Boogie Wipes product. I promise you will love this product!
* This post contains affiliate links. If you make a purchase, we may or may not receive a small commission which helps to support this site. Thank you!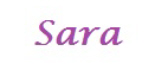 Disclaimer: Sara M. has personally reviewed the product listed above. Sara has not received any monetary compensation for her review. Sara did receive a free product to try out so she could evaluate and use it for her review. Her thoughts & opinions in this review are unbiased & honest and your opinions may differ.