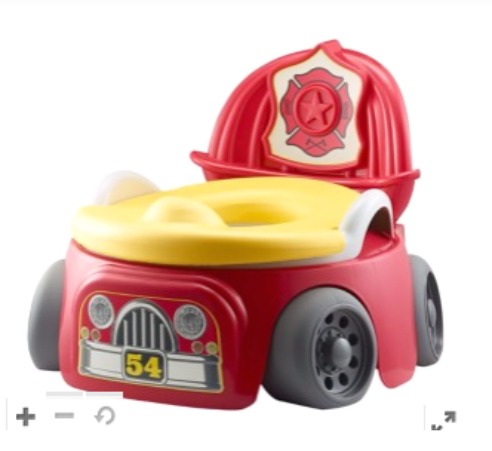 The First Years is a company that I am very familiar with. For the past 25+ years I've purchased many of their products and used them with my daughter (she's now 30 years old) and my little grand daughter who is now 6 year old.
Now that I am going to be a grandmother again to a little baby boy come September, I am all about stocking my home and my daughter's home with the fantastic baby products & toys from The First Years.
This is a company that I know, love and trust to make safe & quality products for the little ones in my family. On top of that, I really appreciate that they sell their items at affordable prices that all families can afford.
For the review I received Two-Stage Potty System in the Hero in Training design from The First Years. This potty training system is made for kids ages 18 months and up.
The Two-Stage Potty System Features:
* Comfortable & Soft Foam Seat
* High Splash Guard for Less Mess
* Non-Skid Bottom
* Removable Trainer Seat Fits Adult Toilet
* Lift-Out Pot for Easy Cleaning
* Handles for Security
As you all know…my daughter is expecting baby #2 in early September and we are super excited to meet the new addition to the family once he arrives.
I am really fortunate that I live only 8 minutes from my daughter and spend a LOT of time with them. My grand daughter who is now 6 years old is over at our house several times a week. My little grandson will be joining her after he gets here.
The reason I mention this is the simple fact that we always need duplicates of baby and children supplies. I keep a set here and my daughter keeps a set at her house.
This Two-Stage Potty System will be staying here at my home so that I can help potty train Jaxon when that time comes. In addition, my little god son is potty training right now and he can use it when he is visiting with me too!
The "Fireman" design is way too cute! It doesn't look like a potty chair at all when you first look at it. Second, it's extremely well-made and I appreciate that it's light-weight. We do a lot of traveling and this potty system is light enough & compact enough for traveling. I love that as your child gets more comfortable with the potty that you can remove the seat and use it on an adult toilet…so you don't have to buy a separate training seat at all. As an added bonus, it is completely made in the U.S.A.
Overall, I think this is a fantastic product!!! If you are looking for a new baby gift…I think this is a fantastic choice to give. It's adorable! Thank you The First Years!!!
* This post contains affiliate links. If you make a purchase, we may or may not receive a small commission which helps to support this site. Thank you!

Disclaimer: Shelly H. has personally reviewed the product listed above. Shelly has not received any monetary compensation for her review. Shelly did receive a free product to try out so she could evaluate and use it for her review. Her thoughts & opinions in this review are unbiased & honest and your opinions may differ. Thanks!