The First Years is a company that I am very familiar with. For the past 25+ years I've purchased many of their products and used them with my daughter (she's now 30 years old) and my little grand daughter who is now 6 year old.
Now that I am going to be a grandmother again to a little baby boy come September, I am all about stocking my home and my daughter's home with the fantastic baby products & toys from The First Years.
This is a company that I know, love and trust to make safe & quality products for the little ones in my family. On top of that, I really appreciate that they sell their items at affordable prices that all families can afford.
Recently I received a package of TOMY GumDrop Orthodontic Pacifiers and a package of the GumDrop Pacifier Wipes to review for all of you.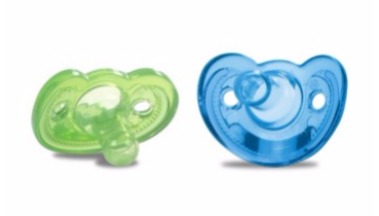 The TOMY GumDrop Orthodontic Pacifiers are for babies ages 0-6 months of age. They come two in a pack and you can select boy or girl designs. In case you didn't know…GumDrop is the brand trusted by hospitals so you know these pacifiers are quality-made. These pacifiers are designed to help promote healthy oral development and are BPA-free.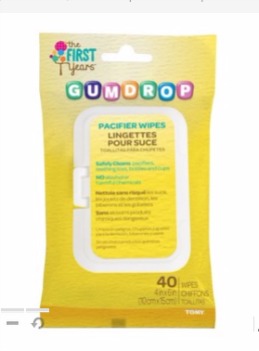 The TOMY Pacifier Wipes are really cool. I wish they would of had these when my daughter was little as they would of saved me a lot of time & grief! She was always spitting her pacifier out and tossing it onto the floor! This product is just genius! The wipes come in a resealable package and contain no alcohol or harmful chemicals. You can safely use them to clean pacifiers, teething toys, bottles and cups. How cool is that? Totally cool. The package is small, light-weight and contains 40 wipes. The perfect size for your diaper bag!
I am really looking forward to using these products with Jaxon once he arrives in early September. Matter of fact, I am going to go out and pick up more of them because you can never have enough pacifiers and those handy-dandy pacifier wipes!
You can learn more about The First Years and the fabulous products that they sell by visiting them online. I really recommend these products to others and if you are looking for an affordable baby shower gift…consider these two items!!!

Disclaimer: Shelly H. has personally reviewed the product listed above. Shelly has not received any monetary compensation for her review. Shelly did receive a free product to try out so she could evaluate and use it for her review. Her thoughts & opinions in this review are unbiased & honest and your opinions may differ. Thanks!