I was pinning on Pinterest the other night and saw a funny meme – it said, "Exercise? I thought you said accessorize!" which totally made me laugh as it's so me. I love to accessorize and I especially love to accessorize with some bling! It was my lucky day when I was asked to review a gorgeous piece of jewelry from the paw print collection at Sincerely Ginger Jewelry.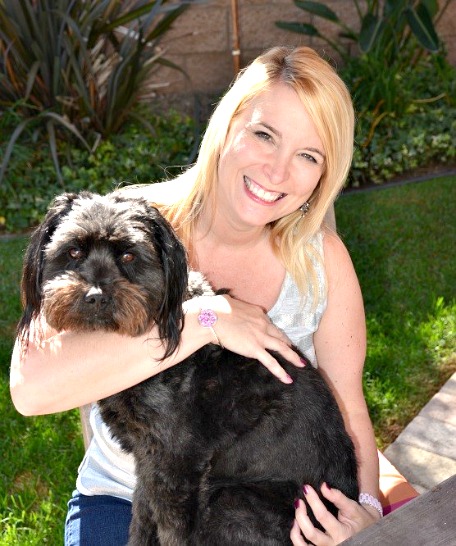 I adore my dog and basically would adopt 10 more if I could and appreciate that this jewelry supports a cause. The collection supports PAWS (Philadelphia Animal Welfare Society), a no-kill animal shelter. 15% of each purchase in the paw print collection is donated to PAWS. The organization is 100% donor funded, and $0.91 of every dollar goes directly to lifesaving efforts.
I chose to review the Sincerely Ginger Ruby Paw Print disc bracelet, which is a thin bangle-style bracelet set with rubies in the shape of a paw print on Argentium® silver. Argentium is made of reclaimed silver and is whiter, brighter, and more durable than traditional sterling silver. What's really special about it is that it has anti-tarnish properties, which makes it invaluable. The bracelet is very durable, yet it still looks very delicate and should fit most wrists. I have a smaller wrist, so the bracelet is a little bigger on me, but I'm sure my jeweler can size it easily for me.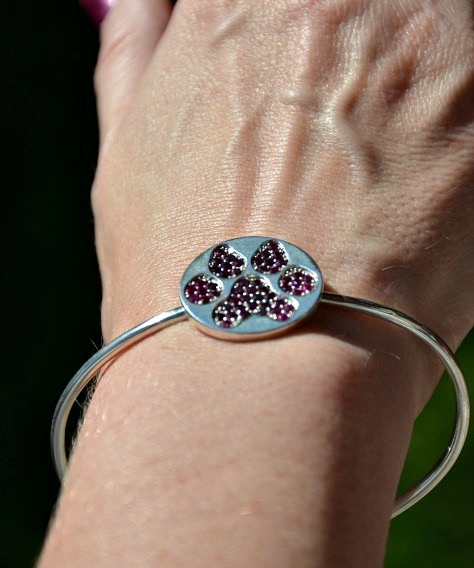 This particular bracelet is available in two options when it comes to the bling factor. The bracelet can be purchased with genuine rubies (1.56 carats) for $1,460 or the more affordable option, lab-created rubies for $330. I received the lab-created rubies and the bracelet shines, sparkles and surely made this pet lover smile.
The current pieces in the collection feature disc necklaces and bracelets with sapphires and rubies (made with genuine stones, or the less expensive lab-created ones) as well as a paw print necklace, bracelet, ring and earrings. The company plans to add more pieces to the collection this fall. The pieces range in price from $55 to $1,460, depending on the piece and the characteristics.
Whether you are treating yourself or a ordering a gift for someone special, this site has plenty of options and of course, all helping such a wonderful cause. In addition, the web site is currently offering free shipping on all orders. Accessorizing, helping animals and getting free shipping is the happy trifecta if you ask me!
Make sure to sign up for their mailing list to get first notice on new items, sales, and even giveaways! One is going on now until July 21,2015.

Disclaimer: Kristine has personally reviewed the product listed above. She has not received any monetary compensation for her review but did receive a free product to try out so she could evaluate and use it for her review. Her thoughts & opinions in this review are unbiased & honest and your opinions may differ.