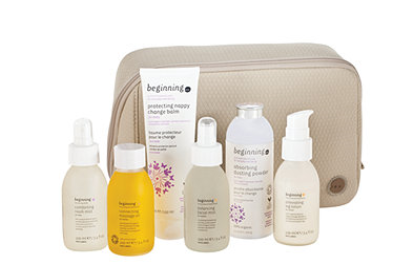 MACLAREN is a company that has been in business for over 50+ years. The company sells quality baby strollers, stroller accessories, blankets and baby bags, children's toys, nursery items and bath & body items for both mom and baby. The company is a leader in the industry and trusted by millions of parents worldwide.
As you all know…my daughter is expecting her second child in early September. We are all excited that we will be adding a little grandson to our growing family.
As part of our 2015 Maternity and New Baby Gift Guide we are featuring the following product which we received for the review.
The MACLAREN Travel Bag is the perfect bag for the mommy and baby who are on-the-go! The set includes 6 products from the MACLAREN beginnings…line of skin care products.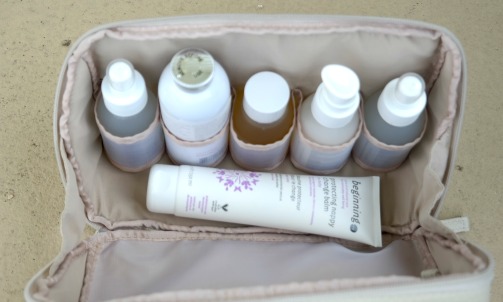 * Travel Bag – This bag has a 3/4 zip around entry, gusseted sides, internal zipper closure back wall pocket and 5 divided sections on the front wall which hold full-size products. One of the great things about this travel bag is that it has a flat bottom and gusseted sides so it will sit upright on a table or vanity top.
Products for Baby:
* Protecting Nappy Change Balm – This diaper changing balm contains pure organic lavender, German chamomile, shea butter and aloe. To use, simply smooth a fine layer of cream over baby's clean & dry skin after changing their diaper or bathing them. It will help to prevent skin irritations.
* Absorbing Dusting Powder – This dusting powder is made with pure organic lavender, tea tree and cornstarch. It is completely talc-free. You can use this product on baby's skin to help soothe chaffing and irritated skin.
* Comforting Room Mist – This room mist is made with organic lavender, mandarin and Roman chamomile essential oils. To use, simply spray 2-3 light mists throughout the room.
Products for Mom:
* Connecting Massage Oil – This massage oil is made with pure organic lavender and Neroli essential oils. To use: Simply warm the oil up between your hands and massage it onto your skin. It can be used allover your body, particularly mom's tired & aching legs!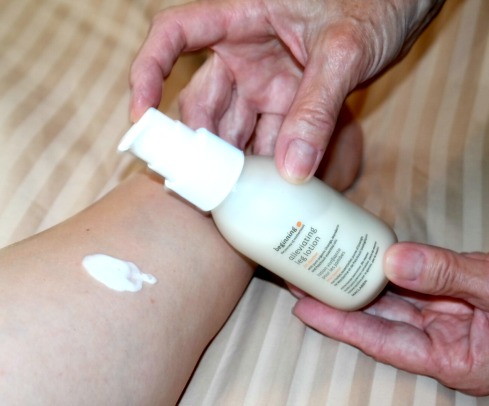 * Alleviating Leg Lotion – This creamy and rich leg lotion is made with pure organic orange mandarin and patchouli essential oils. This is a great lotion to help moisturize and soothe mom's legs and it quickly absorbs and leaves no sticky residue behind.
* Balancing Facial Mist – This facial mist is made with pure organic orange, mandarin and geranium essential oils. You do not apply this mist onto your face…you spray it a few inches away from your face and inhale the fragrance. My daughter loves this and says it's very light, refreshing and soothing. Helps her to relax.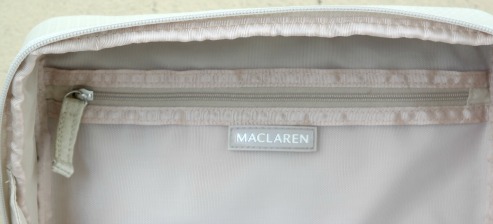 My daughter received this entire set for review and absolutely LOVES it! We recently took a family vacation and she brought this along with us. She used all 3 of the products that are made for mom and saving the other 3 that are made for baby once Jaxon arrives.
The travel bag is really nicely made and a lot sturdier and more elegant than what the photos show. The entire set would make a great baby shower gift or give it to mom after the baby is born. Once all of the products are used…mom still has a really nice travel bag to use!
You can learn more about the company and all of the wonderful products that they make by visiting MACLAREN online.
* This post contains affiliate links. If you make a purchase, we may or may not receive a small commission which helps to support this site. Thank you!

Disclaimer: Shelly H. has personally reviewed the product listed above. Shelly has not received any monetary compensation for her review. Shelly did receive a free product to try out so she could evaluate and use it for her review. Her thoughts & opinions in this review are unbiased & honest and your opinions may differ. Thanks!