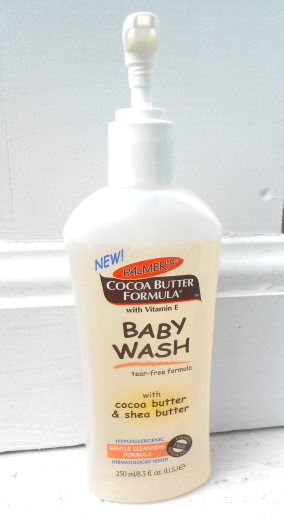 When my daughter was an infant we only had a few different choices when it came to baby wash. Like most mothers I picked one and primarily stuck with it until my daughter got older. Now that baby #2 is coming along, I am being much more selective with the products that I will be buying and using on him. (yes, it's a boy).
Palmer's Baby Wash is a tear-free formula made with cocoa butter and shea butter. It contains vitamin E which is essential for healthy skin and is hypoallergenic. It is paraben free and phthalate free. Dermatologist tested!
We received a bottle of this new Palmer's Baby Wash to review for all of you. Since our newest family addition isn't here yet…we have been using it on my daughter who is almost 6 years old and has very sensitive skin.
You can use this baby wash from head to toe and it will gently cleanse baby's skin while moisturizing it at the same time. It is a mild formula that rinses clean without harsh detergents. It smells fresh and clean!
We have been using it every time she takes a bath for the past 2 1/2 weeks. I am really impressed that it hasn't irritated her skin, it moisturizes at the same time it cleanses her skin and it has a really nice "just-bathed" clean fragrance to it. I will definitely be picking up a few of these before Jaxon arrives in late summer. Fantastic!
* This post contains affiliate links. If you make a purchase, we may or may not receive a small commission which helps to support this site. Thank you!

Disclaimer: Jenelle C. has personally reviewed the product listed above. Jenelle has not received any monetary compensation for her review. Jenelle did receive a free product to try out so she could evaluate and use it for her review. Her thoughts & opinions in this review are unbiased & honest and your opinions may differ. Thanks!