Last month I shared our happy news with all of the Two Classy Chics blog readers. If you missed that post, my husband and I are expecting baby #2 in early September of this year. We are both very excited about adding a new child to our family.
Recently I was introduced to an organic baby food company called Lizzy's Garden. The company is based out of south Florida and is owned by Jennifer Miles. She launched this line of organic baby food back in October 2014 and the company has been steadily growing in popularity.
All of the baby food made by Lizzy's Garden is made with 100% organic ingredients. When you want to feed your child the very best in nutrition, organic is definitely the way to go. There are NO Fillers, NO Artificial Flavors, NO Pesticides and NO Preservatives!
There are 2 stages of baby food: Stage One is for babies ages 4 months and older and State Two is for babies ages 6 months and older. You can select from single ingredient or paired ingredient options. They also have a monthly subscription for parents who want the convenience of having their supply of organic baby food delivered regularly to their front door.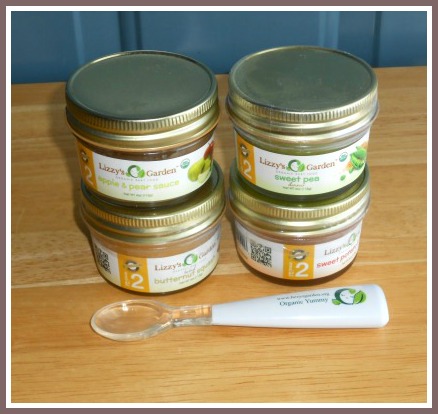 I received 4 jars of organic baby food to try out for all of you. Let's face it, parents should be taste-testing the food themselves before giving it to their babies.
* Butternut Squash
* Sweet Potato and Apple
* Sweat Pea
* Apple and Pear Sauce
All four of my organic baby foods came nicely packaged in a styrofoam cooler and backed with ice packs. It was frozen solid when it arrived at my front door. I removed them from the cooler and placed them into my freezer.
The following day I decided to thaw out 2 of them in my refrigerator because my 5 year old daughter was stick with a 24 hour stomach flu. She couldn't keep any solids down so I thawed out the baby food for her to use.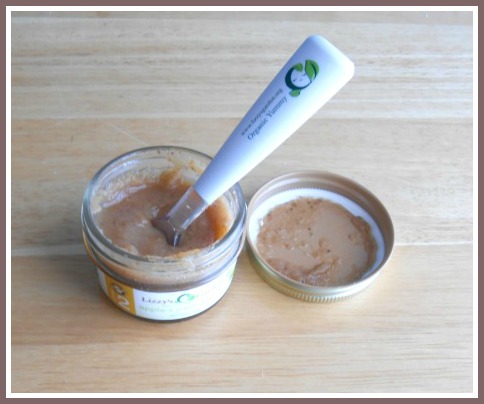 Before giving her the Apple and Pear Sauce and the Sweet Potato Apple, I taste-tested them. I have to admit, they were delicious! They tasted like homemade because…they are! Very flavorful and they had a nice smooth texture to them. After taste-testing, I left Gia eat them and thankfully she was able to keep them down.
The following day she was still feeling under-the-weather so I thawed the remaining 2 jars in my refrigerator (only takes a couple of hours) and she devoured them later that day. I was very grateful that I had these four jars for the review because she wasn't able to handle solids and sport's drinks weren't filling her up. These did and I didn't hear any more complaints about her being hungry.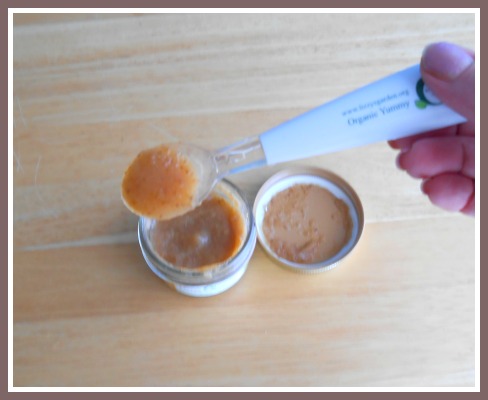 I absolutely love this concept of being able to order homemade organic baby food online and having it shipped straight to my front door. Once the new baby arrives and is old enough to enjoy baby food, I will definitely be ordering some from Lizzy's Garden.
You can learn more about the company and the organic baby products that they have to offer by visiting Lizzy's Garden online and by checking them out on Facebook.

Disclaimer: Jenelle Cribari has personally reviewed the product listed above. Jenelle has not received any monetary compensation for her review. Jenelle did receive a free product to try out so she could evaluate and use it for her review. Her thoughts & opinions in this review are unbiased & honest and your opinions may differ. Two Classy Chics is not responsible for delivery of any giveaway items won from this blog.