Like most dogs, Louie loves to play ball. The problem is that he was almost a year old when we adopted him and he never knew how to play. I think he was kenneled for most of his young life since he did not know what a toy was, what a treat or dog chew was and especially, what a ball was. If we threw a ball at him, he would stand there and let it hit him. Over the years, he has gotten somewhat better at playing ball… well, he would rather eat them… and he definitely does not like to bring them back to you! He would rather run and play keep away. So when I saw a cool new toy for dogs has hit the market, I knew this was a great one for Lou!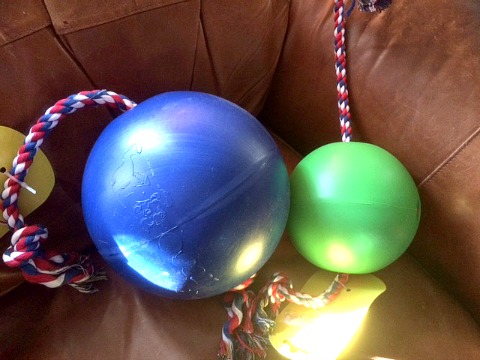 The Tuggo™ is a patented, water-weighted tug dog toy. The brand was soft-launched at Global Pet Expo 2014 and received critical acclaim by winning a place in the much coveted Becker's Best New Pet Products. The Tuggo is available in two sizes (10' and 7' diameter) and three colors (red, blue and green). This one-of-a-kind toy is the perfect solution for providing dogs with exercise, entertainment and mental stimulation.
The Tuggo Dog Toy is great for a dog like Louie who loves to chew on the balls instead of play like he should. As a Pitbull, these oversize balls are perfect for actually playing since he cannot get his mouth around them. With the attached rope, this toy becomes not only a tug toy but also a toy that he can push around and get some great exercise. If you want to add some weight to it, you simply fill the ball with some water or sand and the dog gets a good workout.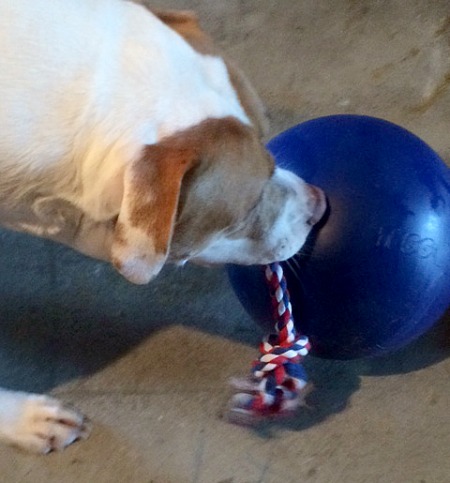 We love to take Louie out to the fields so he can run and these balls are fun for him to drag and push around with him. If I still had my horses, these would be perfect too! They love to play with toys and the big one would be fun to add to their stall!
If your dog loves to play but likes to chew the ball more, you have to check out the Tuggo. It is fun, engaging and will give your pet some exercise too. I love that this is a USA company for trusted products. Tuggo is headquartered in Hendersonville, TN. YAY!
* This post contains affiliate links. If you make a purchase, we may or may not receive a small commission which helps to support this site. Thank you!
Disclaimer: Chris received product for the purpose of this post. These are her thoughts. Yours may vary. Please read our Official Rules before entering this giveaway. We must receive all entries by the end date of the contest and the odds of winning are determined by the number of entries received. No purchase necessary to enter. Two Classy Chics is not responsible for prize fulfillment.