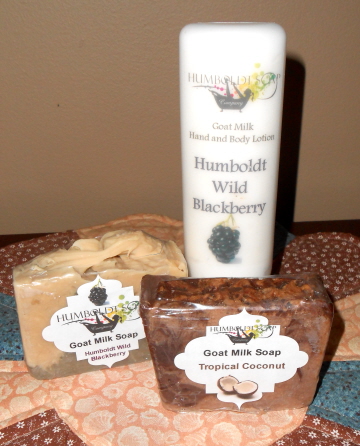 I am a bath and body diva. Yup, I am not afraid to admit that. If you looked in my bathroom & my shower you would see oodles of different products that I like to use. With that said, I am picky about what I buy and put onto my body.
One of the things I am passionate about is handmade soaps. I love to use them to cleanse my body but I also love to use them when I shave my legs. I do NOT buy a shaving cream at all because a good handmade soap will do the job better.
Let me introduce you to the Humboldt Soap Company based out of the great state of California. This company sells natural handmade soaps, face cremes, body lotions, body butter, sugar scrubs, body wash, lip balms and more.
The company sent my mother and I three products to try out for all of you. Let's get started.
First up is the Humboldt Wild Blackberry Goat Milk Hand & Body Lotion and the Goat Milk Soap. The fragrance is absolutely heavenly and true! Both of these products have a light, fresh…blackberry scent that I am really enjoying.
The soap just glides across your body and leaves very clean skin behind with NO sticky or soapy residue. I love using this soap all over my body and it is fabulous as a shaving soap. Goat Milk is super nourishing to your skin and trust me…your skin will thank you!
The Blackberry Goat Milk Hand & Body Lotion is a great product to layer with. I love putting this all over my body after I get out of the shower. It comes in a squeeze tube and has a thicker consistency, it is NOT runny like water but yet…isn't as thick as a body cream. I think the consistency is just perfect. Once you apply the lotion it absorbs quickly into your skin and leaves no sticky residue behind. I love this light blackberry scent!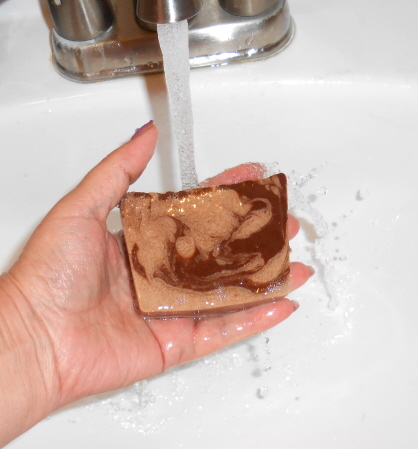 The third product we got to review was the Tropical Coconut Goat Milk Soap and mother ran off with that. She loves anything tropical and immediately stole it from me. Before she walked out the door with it, I had a change to wash my hands with it so I could experience it for myself. The fragrance is light and smells like a freshly sliced coconut.
Have you ever washed your hands with a bar of soap and felt like your hands were drying out? If so, this bar of soap won't do that!!! Your hands feel soft, smooth and clean and it cleanses your skin without stripping the moisture content out. Mom just loves it and has been using it every day when she showers. It is a thick bar so it will last her a good long time!
Head on over to the company's site and take a look around. I think you will be very pleased with the quality of their products, variety and their price points. Top notch!
Giveaway: One lucky winner is going to win a Goat Milks Blackberry Soap and the matching Goat Milk Lotion from the Humboldt Soap Company.
Giveaway Details: This giveaway is open to residents of the US ONLY age 18 and over. Please read our Terms of Service & Disclaimer Policy before entering. This giveaway will close on December 18th, 2014 at 11:59 pm EST time. No purchase necessary to enter or win.

Disclaimer: Shelly Hill has personally reviewed the product listed above. Shelly has not received any monetary compensation for her review. Shelly did receive a free product to try out so she could evaluate and use it for her review. Her thoughts & opinions in this review are unbiased & honest and your opinions may differ. Two Classy Chics is not responsible for delivery of any giveaway items won from this blog. We are not responsible for injury or mis-use of any products won from the Two Classy Chics Blog. Please read our Terms of Service & Disclaimer Policy before entering our giveaways. This giveaway is not affiliated with Facebook or Google+ in any way. Thanks!