I love fun socks and I have the pleasure of telling you about Sock Panda and some great socks I was able to review. This company started in Venice, CA in 2011. It is unique in that it is a subscription service for socks. The socks are $12.00 per pair and you can have as many as you like sent each month with postage included in the cost.
The company searches all over for quality interesting socks of all colors and designs. You have two categories to choose from–bold or cool. The bold are fun wild designs and the cool get noticed but are not too crazy. The designs sent each month are a surprise but if you don't like them send them back and they will send you something different. You can cancel the subscription at any time.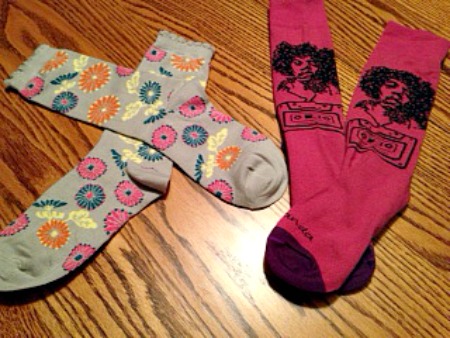 I received one bold pair and one cool style. The bold style is a bright pink sock with purple toes. It has a picture on it of a person I am assuming is a rock singer and a music cassette. Right out of my heydays so you would think I would know who he is. My guess is Jimy Hendricks but I'm only guessing. The cool pair is a beige sock with pretty flowers in several colors. I will enjoy wearing these socks.
The patterns are woven into the sock, not just printed on them. The quality of each pair is very high and so soft. This would be a wonderful gift for those on your list. It is the gift that just keeps coming. How fun to anticipate what will be sent each month!
Women's sizes fit 5-10 and men's sizes fit 8-12. They also have children sizes that are less costly. You really should go to their website, Sock Panda, and check out some of the patterns and styles they have available. You will surely be noticed wearing these beautiful unique socks.

Disclaimer: Nadine Bye has personally reviewed these products. I have not received any Monetary Compensation for this review but did receive free products to use & evaluate for the review. Your thoughts & opinions may differ from mine. All Content on this site is Copyright of the Two Classy Chics. All Rights Reserved