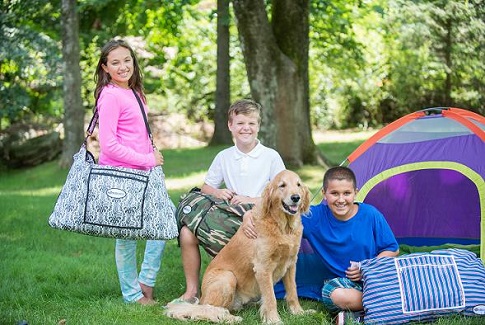 I am a very busy grandmother who spends a lot of time with her grandchild. Every few days Gia is over at our house and at least once a month she is over for a sleepover. Spending all of this time with her…is special to us.
As you can imagine, at times it is a complete nightmare trying to transport all of her blankets, clothing, pillows, books and other things that she brings back and forth when she comes to stay with us. Usually, it is all packed into multiple bags which is a real pain in the butt to tote around.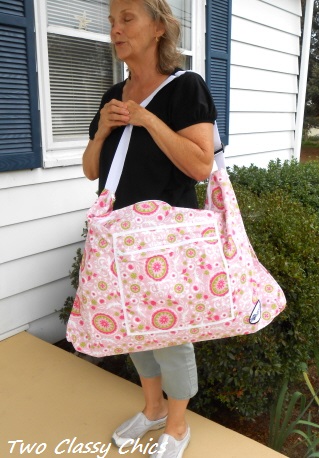 Recently we were introduced to the Sleep Over Bag by Bombinizz and let me tell you, it has made a huge difference in our lives. Yes, an over-sized tote has really changed things around here and for the better!
The Bombinizz, the Pillow Carrier and Sleepover Bag, is great for the busy mom with kids on-the-go! It can be used for storing blankets and diapers, baby clothes when traveling or at home. Bombinizz is a pillow carrier that keeps your pillow and other travel items clean and organized.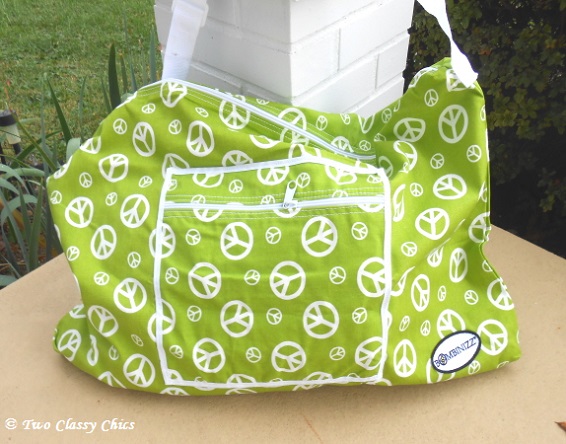 Bombinizz comes in fun colors and fits a regular sized pillow & other overnight items. Bombinizz is perfect for sleepovers, camping, picnics, the beach, road trips, etc. It is washable and folds flat for convenient storage. Bombinizz makes a great practical gift for all ages.
I introduced you to these fabulous bags a few weeks ago and recently I got a second one (in lime green with peace symbols print) to review for all of you. With this one…I have been using it to tote Gia's items back and forth to her other grandma's house! We use the pink one for when she is coming to my house and the green one when she goes to Nana's house. We keep them pre-loaded with her blanket, pillow, stuffed animal and a book. Then we just toss in her clothing & a few other things when she is getting ready to go. It saves so much time and everything is nicely packed into one over-size tote bag! Genius I tell ya!!!
These bags are extremely well-made and you can really stuff them to the gills. I also like that they are light-weight and not too cumbersome to haul around with us. On top of that…super cute & stylish too!
* This post contains affiliate links. If you make a purchase, we may or may not receive a small commission which helps to support this site. Thank you!

Disclaimer: Shelly has personally reviewed the product listed above. Shelly has not received any monetary compensation for her review. Shelly did receive a free product to try out so she could evaluate and use it for her review. Her thoughts & opinions in this review are unbiased & honest and your opinions may differ. Thanks!