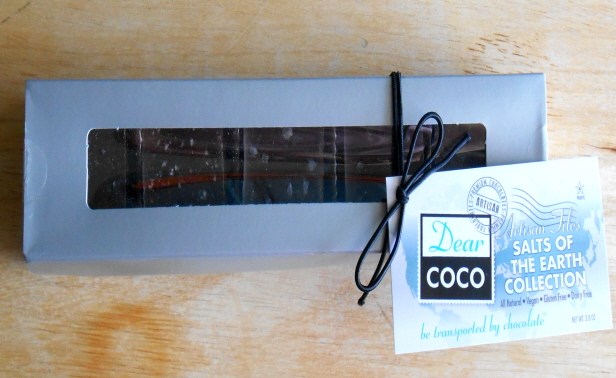 ** 2014 Holiday Gift Guide **
How many of you are done with your holiday shopping already? How many of you are still shopping and looking for that perfect holiday gift? Me personally, still shopping!
Today I want to introduce you all to Dear Coco Chocolate that offers globally inspired premium artisan truffles which are dairy-free, gluten-free, vegan-friendly, handcrafted and certified kosher. In addition to truffles, you will find various other artisan created chocolates like the next product that I am going to tell you about.
For review I received a box of the Salts of the Earth Artisan Chocolate Tiles that are completely handcrafted from Dear Coco. If you love salty chocolates, you are going to love these!
From the clear turquoise waters of Hawaii to the coast of France, they have carefully sourced these mineral-rich & naturally gourmet salts from the four corners of the world. They are made from handcrafted dark Belgium chocolate tiles, providing the perfect salty-sweet contrast with a little bit of a crunch.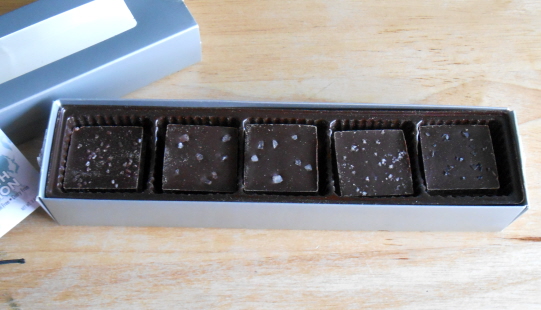 The collection includes 15 handcrafted dark chocolate tiles topped with the following salts:
Red – Hawaiian Alaea Sea Salt – Rich in trace minerals from red Hawaiian clay, Alaea Sea Salt is naturally cultivated from Hawaiian sea water & is the traditional table salt used in Hawaii.
Pink – Himalayan Mountains Pink Salt – This salt is hand-mined from the Himalayan Mountains and is naturally found deep inside the mountain. It is praised by many health & culinary experts for centuries as one of the purest salts on earth.
White – Sicilian Trapani Sea Salt – Trapani Sea Salt is handcrafted from traditional salt pans along the famous "salt road" in Sicily. The crystals are the first to bloom on the surface of the salt ponds.
Grey – French Sel Gris de Guerande – Sel Gris is an unrefined whole mineral sea salt that is hand harvested in France using centuries old Celtic methods. High in moisture content & bonus nutrients not found in other salts.
Black – Pacific Northwest Smoked Sea Salt – This beautiful Pacific Sea Salt is naturally slow-smoked over real Northwest Red Alderwood, which provides an authentic & clean smoke flavor.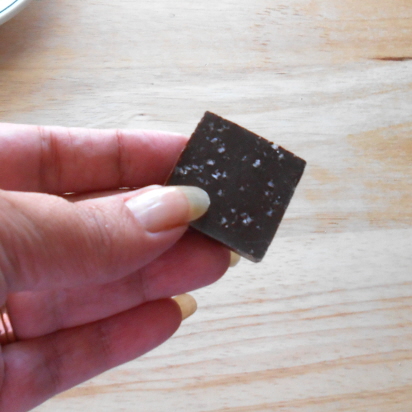 My Thoughts: Usually I gravitate towards milk chocolate but this time around I was excited to try some dark chocolate. Hubby raves & raves about dark chocolate so I was ready to "dive" in once my packaged arrived.
The chocolates come gift-boxed so you can wrap them, add a bow & tag or place the box into a bag for gift-giving. I think they make a nice presentation and as a holiday hostess, I would love it if my guests brought me gifts like this!
Okay, back to the chocolates…for someone who is normally not a dark chocolate fan, I have to admit…these are fantastic! Each one has a distinct flavor and I love the salty mixed with the sweet with just a little bit of crunch thrown in for good measure. They texture, flavor, etc. is just perfect, I don't think they could get any better!
My favorite flavor was the Hawaiian Alaea Sea Salt chocolate tiles but hubby was all over the French Sel Gris de Guerande Sea Salt chocolate tiles. Now my mother, she liked the Himalayan Mountains Pink Salt chocolate tiles. This is why this gift box assortment makes a great gift because any chocolate lover will find a flavor in this box that they will just love! They are the perfect portions too!
Head on over to Dear Coco and take a look at their artisan-made chocolate confections! They make great holiday gifts and/or hostess gifts this upcoming holiday season.

Disclaimer: Shelly Hill has personally reviewed the product listed above. Shelly has not received any monetary compensation for her review. Shelly did receive a free product to try out so she could evaluate and use it for her review. Her thoughts & opinions in this review are unbiased & honest and your opinions may differ. Please read our Terms of Service & Disclaimer Policy before entering our giveaways. Thanks!