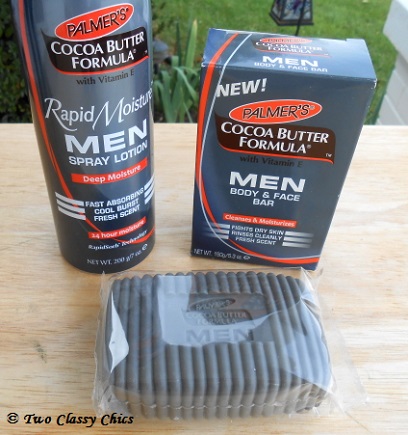 ** Product Samples Were Received for This Feature **
When it comes to holiday gifts…I am all about the practical ones that any man can use all year long. I love to take several items and group them together in a nice holiday stocking or festive holiday gift bag.
When it comes to practical stocking stuffer ideas for men…here are the type of items I shop for.
* After Shave Lotion or Balm
* Shaving Cream or Gel
* Disposable Razors
* Men's Cologne
* Deodorant or Antiperspirant
* Body Lotions or Balms
* Shower Gels
* Shampoo & Conditioner
* Toothpaste and Toothbrush
* Mouthwash
* Nail Clippers
* Hand Soaps
* Bath Soap Bars
When shopping for these products you can shop for travel-sizes or full-sizes depending upon your budget.
One company that I like to turn to for Men's Personal Care Stocking Stuffers is Palmer's. They have all kinds of great body care products for every member in your family.
The Palmer's MEN Body & Face Bar is a great cleansing & moisturizing bar that can be used all over the body. It contains cocoa butter and vitamin E which is very moisturizing to the skin. It has a fresh & clean scent that men just love!
The Palmer's MEN Rapid Moisture Spray Lotion contains cocoa butter & vitamin E to provide deep moisturizing power. It is fast absorbing and offers 24 hour moisture. Men love products that they only apply once per day and they are done!
Both of these products are paraben-free and phthalate-free. My husband loves these products so I will definitely be buying a few of them to toss into his holiday stocking this year.
What kind of men's stocking stuffers do you like to buy?
* This post contains affiliate links. If you make a purchase, we may or may not receive a small commission which helps to support this site. Thank you!