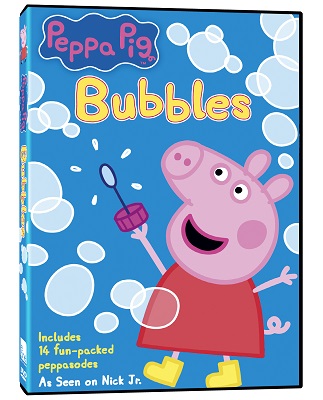 Nick Jr. has a television show starring Peppa Pig. She was created by Mark Baker and Neville Astley and this DVD is one of a series of about twelve DVDs. Peppa Pig Bubbles features Peppa Pig and her family: Mummy Pig, Daddy Pig and her little brother, George. All the characters are animals that talk, wear clothes, live in houses and drive cars. The animals also occasionally make the sound of the animal they represent.
John Sparkes narrates the stories and adds the comments that add to the action and humor such as "Oh, dear" when something unfortunate happens (when George starts to cry) or "Be careful!" when a character could hurt themselves.
Peppa Pig Bubbles DVD contains twelve different stories (plus two bonus episodes) and each story runs about five minutes in length. The stories are interesting enough to hold your child's interest but short enough for their attention span.
Bubbles is a story about Peppa's family finding a simple way to entertain themselves, by blowing bubbles. Peppa and her brother, George, are blowing bubbles in their glasses of orange juice. Mummy Pig suggests Peppa get her "bubble mixture" and go outside and show George how to blow bubbles. She lovingly instructs him step by step. Unfortunately, George does not have enough breath to blow bubbles, so Mummy Pig shows George how to dip the stick in the mixture and wave the stick around to make bubbles. Daddy Pig suggests that it is even better if you run around.
Unfortunately, the bubble mixture is soon used up and the bottle is empty. So Daddy Pig, being the resourceful father that he is, finds another way for them to make bubbles!
The British accent of Peppa Pig and all the characters is really interesting to listen to. Each story contains a lesson or solves a problem with Peppa's loving family leading the way!
This DVD would be a great stocking stuffer! The DVD contains other stories such as Mysteries, George's Friend, The Time Capsule, Windy Autumn Day and Recycling. I am looking forward to sharing these DVD's with my granddaughter.

Disclaimer: Gail Mahoney has personally reviewed the product listed above. Gail did not received any monetary compensation for her review. Gail did receive a free product to try out so she could evaluate and use it for her review. Her thoughts & opinions in this review are unbiased & honest and your opinions may differ. Please read our Terms of Service & Disclaimer Policy before entering our giveaways. Thanks!