This year we are doing a Two Classy Chics Virtual Holiday Cookie Exchange! You will be able to find all of the cookie recipes from the staff here at Two Classy Chics by visiting our 2014 Holiday Gift Guide page.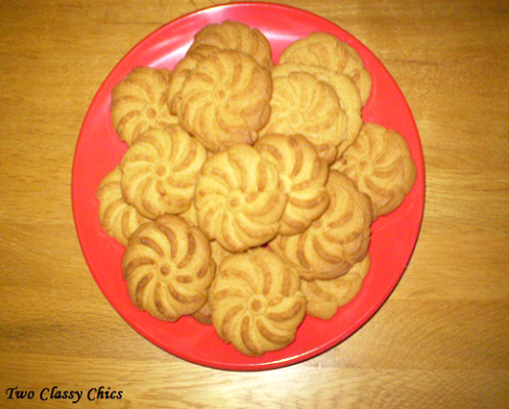 Peanut Butter Cookie Press Cookies Recipe
Preheat Oven to 375 degrees.
½ cup shortening ½ cup creamy peanut butter
½ cup granulated sugar 1¼ cups sifted all-purpose flour
½ cup brown sugar ½ teaspoon soda
1 egg beaten ¼ teaspoon salt
1 tablespoon hot water
Cream the shortening. Gradually add sugars and cream well. Add the egg, hot water and peanut butter. Sift flour, soda and salt together. Gradually add dry ingredients to the creamed mixture. Fill a cookie press. Form cookie on ungreased cookie tray.
Bake for 10 to 12 minutes. Yield: 4 dozen cookies.
* This post contains affiliate links. If you make a purchase, we may or may not receive a small commission which helps to support this site. Thank you!