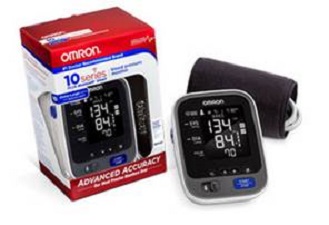 ** 2014 Holiday Gift Guide **
As an ex-healthcare professional, I know how important it is to monitor your blood pressure on a consistent basis. Many people think that they don't have to do this until they are diagnosed as having a problem. This is simply not true. Even if you don't currently have a blood pressure problem, it is still important to consistently monitor it.
Gone are the days where you had to fumble with a blood pressure cuff and stethoscope. Gone are the days where you had to be medically trained to monitor your own blood pressure. These days, anyone can do it and they can do it with the help of this new product that hit the retail market.
Let me introduce you to the OMRON 10 Series Plus Bluetooth Smart Blood Pressure Monitor. It is the #1 doctor recommended brand! It has been clinically proven to give you an accurate reading and is their most precise monitor ever.
Manage and track your progress (works with): Many models of the iPhone and Samsung Galaxy Bluetooth Devices.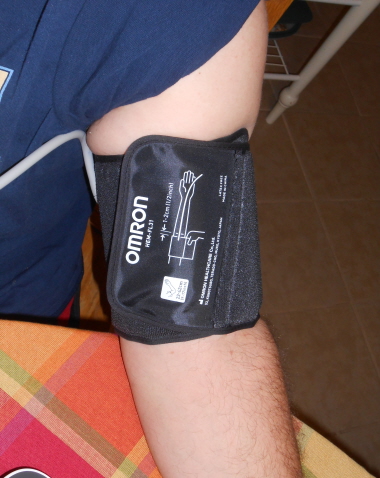 Features:
* Advanced Accuracy
* Multi-Colored BP Level Indicator Lights
* Easy-Wrap Cuff
* ComFit Cuff
* TruRead
* BP Level Bar
* Extra-Large Digits with Backlight
* Bluetooth Smart Connectivity
* Irregular Heartbeat Detector
* 200 Memory Storage with Advanced Averaging
* AC Adapter
* Operates on 4 AA Batteries (not included)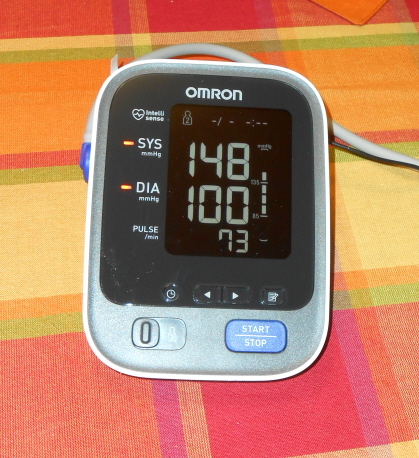 The included "Getting Started" booklet explains everything in easy to understand language so that anyone can learn how to monitor their own or a loved one's blood pressure with ease.
The Easy-Wrap Cuff helps prevent the most common measurement error to provide user confidence. Now…I know how to take a BP and have probably taken 10,000+ of them when I was working in the hospital. So, I had my mother read the instructions & take my husband's BP. She got it 100% right the very first time (she has NO medical experience) and commented about how easy it is to use.
Next up…the professional…me. I used it to take my hubby's blood pressure and was amazed at how accurate it was. I took it manually via my old cuff & stethoscope and compared those readings with the OMRON blood pressure monitor and they were identical.
Now you can learn to monitor your own blood pressure and you can wirelessly transfer your readings to your smart device, making it easy to track your progress over time. This is fabulous because you can share your readings with your healthcare professional so they get an accurate measurement of what is going on with you. Let's face it…your BP might now be high at the doctor's office but two days later at home…it is!
Since receiving it, I have packed away my stethoscope & cuff into a storage bin and have been exclusively using the OMRON blood pressure monitor. I absolutely LOVE IT and highly recommend it to others.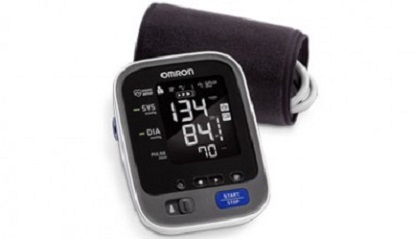 Giveaway: One lucky winner is going to win the 10 Series PLUS Bluetooth Smart Blood Pressure Monitor from OMRON. Value $99.99.
Giveaway Details: This giveaway is open to residents of the US ONLY age 18 and over. Please read our Terms of Service & Disclaimer Policy before entering. This giveaway will close on December 15th, 2014 at 11:59 pm EST time. No purchase necessary to enter or win.

Disclaimer: Shelly Hill has personally reviewed the product listed above. Shelly has not received any monetary compensation for her review. Shelly did receive a free product to try out so she could evaluate and use it for her review. Her thoughts & opinions in this review are unbiased & honest and your opinions may differ. Two Classy Chics is not responsible for delivery of any giveaway items won from this blog. We are not responsible for injury or mis-use of any products won from the Two Classy Chics Blog. Please read our Terms of Service & Disclaimer Policy before entering our giveaways. This giveaway is not affiliated with Facebook or Google+ in any way. Thanks!