I am a sucker for holiday movies and generally anything Christmas from music to decorations too. I start watching Christmas movies as soon as they start running on the Hallmark channel in November. I was excited to see that one new holiday theme movie was featured this past weekend on the Hallmark channel and now you can grab the DVD at the store too. This new movie is a heart warming family movie that the whole family will enjoy! Check it out.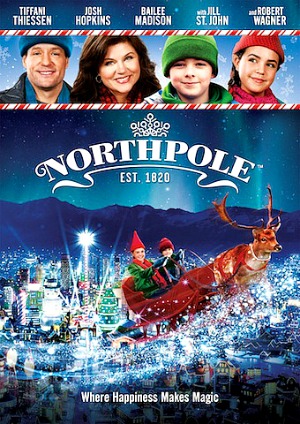 ***Available on DVD: November 18, 2014***
Hallmark Channel World Premiere: November 15, 2014
Director: Douglas Barr
Writers: Gregg Rossen, Brian Sawyer
Cast: Tiffani Theissen, Josh Hopkins, Bailee Madison, Max Charles
Running Time: 85 minutes
Rated: G
Genre: Family/Holiday
SRP: $20.99
UPC #: 796019828666
Synopsis:
Northpole, the magical home to Santa & Mrs. Claus, has grown into a huge city powered by the magic of holiday happiness around the world. Yet as people everywhere get too busy to enjoy festive time together, the city is in trouble. Who can help save the cherished traditions of Christmas? One young boy, Kevin, might have a chance if he can convince his protective mom, Chelsea, to rediscover the magic of the season. With a little added help from Kevin's charming teacher Ryan, a mysterious elf-like girl Clementine and a gospel singer named Josephine, Kevin is determined to bring his mom in on the fun and prove that one small voice can change the hearts of many.

My Thoughts:
I caught this movie on Hallmark this weekend not realizing that I also was reviewing the DVD too! I am so thrilled about this because even though I am "old", I really enjoyed this movie and now I can see it over and over. Not only is it a heartwarming film that all ages will enjoy, it is also filled with all of the good things we love about Christmas. A fun elf, happiness and joy, music, and the wish to have Christmas like it used to be back when it was about the season and the meaning and not about material things.
When the holidays get crazy, it is nice to have some movies that you can pop in and watch over again and enjoy the family togetherness. This is a movie that I an see becoming a nice classic to watch year after year. The kids will enjoy it and the adults will appreciate the meaning of the movie – to feed our souls with happiness and joy that the Christmas season brings us.
Enter the Giveaway
We are excited to offer one lucky person a copy of this new DVD. Here is how to enter!
Giveaway Details: This giveaway is open to US Residents age 18 or over. You must complete the Mandatory Entry to be eligible. Follow the directions in the Giveaway Tool below. This giveaway will close on December 11th, 2014 at 11:59pm EST Time.
Disclaimer: Chris Carroll received product for the purpose of review. Please read our Official Rules before entering this giveaway. We must receive all entries by the end date of the contest and the odds of winning are determined by the number of entries received. No purchase necessary to enter. Two Classy Chics is not responsible for prize fulfillment. All Content on this site is Copyright of the Two Classy Chics All Rights Reserved