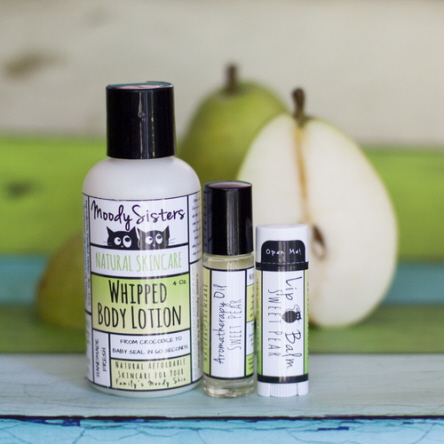 Jess and Whitney are the creators of Moody Sisters Natural Skin Care. In their homes in Cashmere, Washington, they make their handmade products fresh each week from natural ingredients derived from the earth. The products are also kid-friendly because they do not contain chemicals, dyes, fragrances, parabens, or sulfates.
Stemming from a need for products to address their own skincare issues, they spent months working in their own kitchens to develop natural products to address their needs. They developed a line of sensitive skin cleansers and moisturizers as well as blemish and oil control products. They also made wonderful lip balms and aluminum-free deodorants and body scrubs. Each product is created to rejuvenate and brighten the skin and is carefully handmade.
I was given the Chai Scented Whipped Body Lotion, Aromatherapy Oil in Dreamy Orange, Lightweight Moisturizer and Vanilla Chai Lip Balm to try.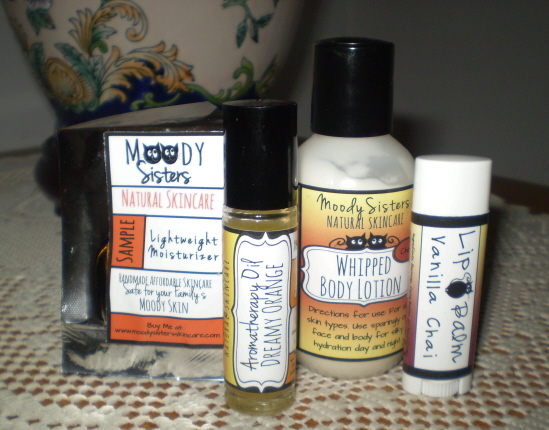 The Whipped Body Lotion is very light and comes "fluffy". It is absorbed into the skin immediately and has a light and pleasant fragrance. I noticed how soft my skin felt immediately and this feeling lasted throughout the day. This product contains ingredients such as coconut oil, mango butter and aloe juice, using only pure essential oils, which makes it safe for all types of skin. This product can also be used as a facial moisturizer.
The Aromatherapy Oil comes in a bottle with a roller on top. Shake the product vigorously before use and apply it sparingly to your skin as often as you wish for an instant energizing feeling. The Aromatherapy Oils were created to pair with the Whipped Body Lotions and come in the same scents. This way you can take your favorite scent with you on the go! The Aromatherapy Oil in Dreamy Orange smells just like a Creamsicle that I bought from the ice cream man in my youth!
My favorite product was the Lightwight Moisturizer. This is a clear, liquid, aloe based moisturizer that will hydrate the skin on your face without feeling greasy. It is a perfect moisturizer for balancing oily skin. It contains oil-absorbing essential oils to hydrate your skin while leaving it shine free. I was shine free all day!!
The Vanilla Chai Lip Balm is a dream to use. It contains Shea butter and beeswax and is scented with especially yummy essential oil blends. The tube is easy to place in your purse or pocket to take along with you to use throughout the day because it is an oval shape instead of round. The Vanilla Chai fragrance was very pleasant to use and left my lips soft and protected throughout the day.
Giveaway: Two (2) winners will each win a $25.00 e-gift card to shop at Moody Sisters! Yay!!!
Giveaway Details: This giveaway is open to residents of the US ONLY age 18 and over. Please read our Terms of Service & Disclaimer Policy before entering. This giveaway will close on November 30th, 2014 at 11:59 pm EST time. No purchase necessary to enter or win.

Disclaimer: Gail Mahoney has personally reviewed the product listed above. Gail did not received any monetary compensation for her review. Gail did receive a free product to try out so she could evaluate and use it for her review. Her thoughts & opinions in this review are unbiased & honest and your opinions may differ. Please read our Terms of Service & Disclaimer Policy before entering our giveaways. Thanks!