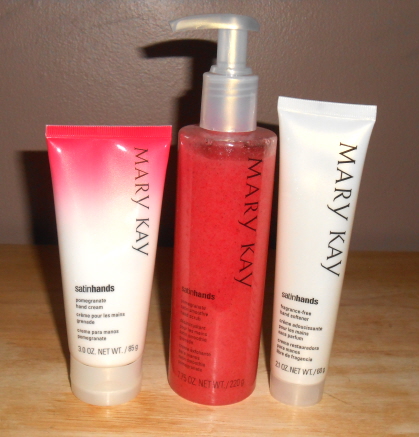 ** 2014 Holiday Gift Guide **
For the past several weeks I have been reviewing a variety of different Mary Kay products for all of you. This next one that I am going to feature would make a great holiday gift or pick up a set just to treat yourself.
The Mary Kay Satinhands Pampering Set includes 3 fantastic products:
* Satinhands Hand Softener
* Satinhands Satin Smoothie Hand Scrub
* Satinhands Hand Cream
All three of these products in my gift set are from the Pomegranate Satin Hands line and let me tell you, every time I use them I feel like I am giving myself a very expensive and well-deserved high-end spa treatment!
These 3 products all work in conjunction with one another to give you super soft and well-hydrated hands.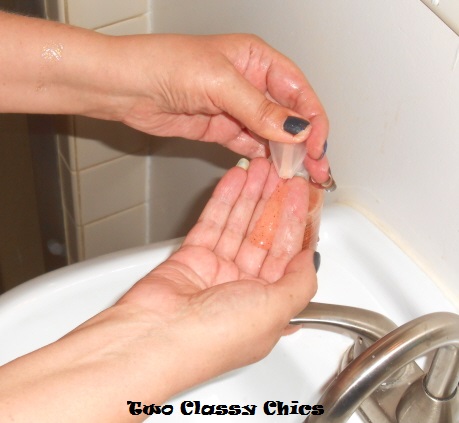 Step 1: Use the Satinhands Hand Softener – Massage a small amount of cream into clean hands & between fingers. For added hydration, dampen skin with water prior to applying.
Step 2: Use the Satinhands Smoothie Hand Scrub – Dispense 1-2 pumps of scrub, massaging into hands and between fingers. Rinse well, pat dry.
Step 3: Use the Satinhands Hand Cream – Massage cream into hands and between fingers. This non-greasy hand cream leaves hands soft & silky for up to 24 hours!
Now I want to be honest with all of you. This is NOT my first time trying something from the Satinhands line. If you remember, last month I tried the same three products but from their peach line…this time around I am enjoying those same products but from the pomegranate line.
The hand softener does a fabulous job at preparing my skin for the hand scrub. The two of them slough off all of the dead skin cells and your hands feel super soft after just one use. You then follow up the treatment by applying the pomegranate hand cream which is non-greasy and absorbs quickly into your skin.
Regarding the pomegranate fragrance…well, it is heaven in a bottle! I love it and it is nice to be able to switch between the peach and the pomegranate so that I don't get bored with my routine. I love these products and think you would love them too!
Head on over to Mary Kay to learn more about the company, to shop for products, obtain home business information or to find a consultant near you. Remember, the holidays are coming and now is the time to place your orders!

Disclaimer: Shelly Hill has personally reviewed the product listed above. Shelly has not received any monetary compensation for her review. Shelly did receive a free product to try out so she could evaluate and use it for her review. Her thoughts & opinions in this review are unbiased & honest and your opinions may differ. Please read our Terms of Service & Disclaimer Policy before entering our giveaways. Thanks!