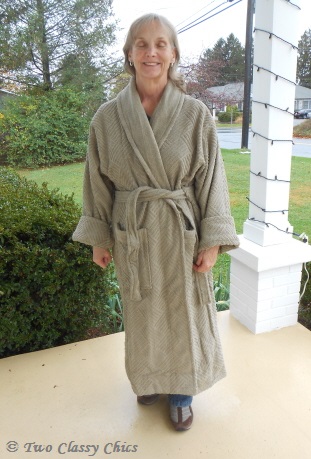 Several months ago I had the pleasure of introducing you all to J Brulee Home and their exquisite line of luxury bedding & linens and today…they are back to participate in our 2014 holiday gift guide!
If you have never shopped at J Brulee Home you will find a large assortment of the finest in luxury bedding, designer bedding, fine European linens, fabrics and accessories for your Bed, Bath, and Table.
For our holiday gift guide the company sent me a Soft, Luxurious Turkish Cotton Bath Robe to review for all of you. As soon as the box arrived, I had the robe out of the box and onto my body. It has been cold here already and as soon as I felt how soft it was…well, I just couldn't wait!
So that I could take photos of it…my mother is modeling for me. At her age, she doesn't understand how to use techie products so she always serves as my model.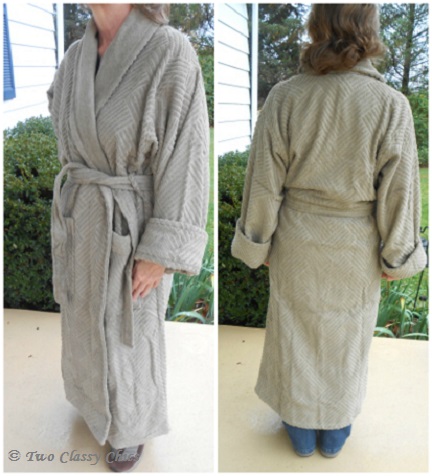 Anyway, this robe is just FABULOUS! It is made out of 100% Turkish Cotton, machine washable and is available in 4 different colors. It has a nice pattern…a basket weave pattern which gives it a nice "hand" to it. You will just want to rub your hands all over this robe…super soft!
It has your classic shawl collar and long sleeves that you can roll back if you have short arms. It is a full length robe so you get really nice coverage around your legs, two deep front pockets and it comes with a matching belt. In my opinion, it can be worn by a man or a woman…depending on the color you select.
When ordering, stay true-to-size…mom is slightly smaller than me so it fits her a little big but fits me perfectly. It is a heavy-weight robe so it is perfect for our cold winter climates here in the north east. With that said, I wouldn't hesitate in using it in the summertime after I jump out of the shower or the swimming pool at all.
About laundering? No worries there! I have washed and dried this robe at least 3 times since receiving it and it looks new…matter of fact, I swear it gets softer & softer with each washing. I love it!!!

Disclaimer: Shelly has personally reviewed the product listed above. Shelly has not received any monetary compensation for her review. Shelly did receive a free product to try out so she could evaluate and use it for her review. Her thoughts & opinions in this review are unbiased & honest and your opinions may differ. Thanks!