Being a relatively new iPhone owner, I was very excited to be introduced to Glider Gloves. These wonderful gloves were developed by a small group of entrepreneurs who originally developed the gloves for their own personal use. In 2011, Glider Gloves started to receive a lot of attention and were being sold in hundreds of mobile and sporting goods stores across the United States, Canada and in parts of Europe. Three years later Glider Gloves are sold and distributed in retail stores globally.
When I took the Winter Gloves out of the package, I noticed how sturdy they were and really like the dark grey fabric they are made from which goes with just about everything. The gloves are covered by a honeycomb pattern over the palm and fingers. Not only does the rubberized covering make it easy to use the touchscreen on your phone or tablet, Glider Gloves also give you a good grip on your device. They are also an excellent driving glove!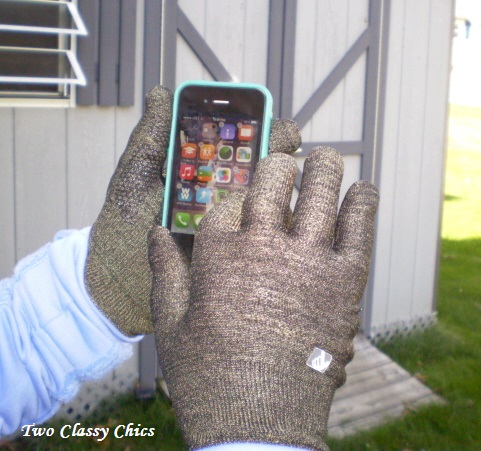 The three layers of insulation inside the Winter Glider Gloves keep your fingers warm when outside in the colder temperatures. They are just snug enough and not only is the rubberized palm and fingers handy, the entire surface of the Glider Gloves is conductive so you can swipe or type anyway you want to, even using your knuckles! As a bonus, the tag inside the gloves is made from microfiber so you can use it to wipe and clean the screen on your phone or tablet.
Wearing the Glider Gloves, I was easily able to answer my iPhone, go onto social networks, text and place calls. It is really nice not to have to take off your gloves to do these things and keep your hands warm at the same time.
I highly recommend Winter Glider Gloves if you are looking for warm winter gloves and want to still be able to have easy access to your phone or tablet. The Winter Glider Gloves are by far the best touchscreen compatible gloves on the market.
Reader's Discount: Get $3.00 off a pair of gloves when you buy them through the company's web site. Just enter PROMO CODE: 3offGG20148404.
Giveaway: One lucky winner is going to win a pair of these awesome gloves in the size that they need.
Giveaway Details: This giveaway is open to residents of the US ONLY age 18 and over. Please read our Terms of Service & Disclaimer Policy before entering. This giveaway will close on November 20th, 2014 at 11:59 pm EST time. No purchase necessary to enter or win.

Disclaimer: Gail Mahoney has personally reviewed the product listed above. Gail did not received any monetary compensation for her review. Gail did receive a free product to try out so she could evaluate and use it for her review. Her thoughts & opinions in this review are unbiased & honest and your opinions may differ. Please read our Terms of Service & Disclaimer Policy before entering our giveaways. Thanks!