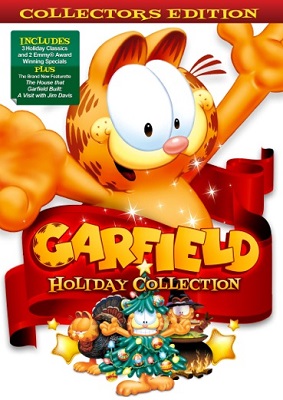 ** 2014 Holiday Gift Guide **
Anderson Digital brings you five Garfield TV specials in one hilarious must-own collection. GARFIELD HOLIDAY COLLECTION includes Emmy™ Award-winners "Garfield Halloween Adventure" and "Garfield on the Town," as well as Emmy™ Award-nominated "A Garfield Christmas," "A Garfield Thanksgiving" and "Garfield in Paradise." The holiday collection is available on DVD on November 4, 2014 for an SRP of $14.99.
GARFIELD first debuted in the United States on June 19, 1978 in just 41 newspapers. Today, it has become a phenomenon. The cartoon strip is now in over 2,600 newspapers worldwide and read by over 263 million people. Guinness World Records named GARFIELD "The Most Widely Syndicated Comic Strip in the World."
From the comic strip's success – the GARFIELD brand expanded and crossed over to many mediums – TV shows (GARFIELD AND FRIENDS, which CBS syndicated from 1987-2000, receiving ten Emmy™ nominations and Four Emmy™ Awards for Outstanding Animated Program), films (GARFIELD: THE MOVIE, 2004 and GARFIELD: A TAIL OF TWO KITTIES, 2006, which stars Breckin Meyer, Jennifer Love Hewitt and Bill Murray) and comic books (over 130,000,000 books sold worldwide).
GARFIELD, through its Paws, Inc. label, has a healthy licensing program with nearly 400 manufacturers creating thousands of products worldwide.
"Of the three holiday specials, the Thanksgiving show is the most 'Garfield,' in that it involves food," said GARFIELD creator Jim Davis. "Garfield gets put on a diet early in the show so he spends a lot time thinking about food, talking about food, and trying to get food. There's also some funny stuff dealing with Jon's bachelorhood and the general 'haven't a clue' approach he takes to making this big meal to celebrate the day."
GARFIELD HOLIDAY COLLECTION TV Specials:
"A Garfield Christmas": Garfield, Jon, and Odie go to Jon's grandmother's house for Christmas, where Garfield finds a present for Grandma.
"A Garfield Thanksgiving": Finds Jon with a love interest– a veterinarian who orders Garfield on a diet–and then comes for Thanksgiving dinner!
"Garfield Halloween Adventure": Finds the portly hero and airhead-sidekick Odie the dog scrounging through owner Jon's attic to find perfect costumes, then encountering ghosts and ghoulies that seem a tad authentic.
"Garfield on the Town": Garfield escapes from the car on a trip to the vet and finds the place where he grew up.
"Garfield in Paradise": The Garfield gang is in Hawaii with a 1957 Chevy.
Our Thoughts: We received the Garfield Holiday Collection DVD to review for all of you and let me tell you…it's great! Brings back fantastic memories of when our daughter was a little girl and used to watch Garfield all of the time.
This particular DVD includes 3 holiday episodes:
* A Garfield Christmas
* Garfield's Thanksgiving
* Garfield's Halloween Adventure
Plus the brand new featurette: The House That Garfield Built
Since receiving the DVD, we have watched it several times with our 5 1/2 year old grand daughter, especially the Garfield's Halloween Adventure since Halloween is just around the corner. All 3 of the episodes are fun to watch, very entertaining and you will get lots of laughs & memories when watching them. I love seeing good old-fashioned classics coming back for children to enjoy and adults to enjoy all over again!
Giveaway: One lucky winner is going to win the collector's edition "Garfield Holiday Collection" DVD. Yay!!!
Giveaway Details: This giveaway is open to residents of the US ONLY age 18 and over. Please read our Terms of Service & Disclaimer Policy before entering. This giveaway will close on November 23rd, 2014 at 11:59 pm EST time. No purchase necessary to enter or win.

Disclaimer: Shelly Hill has personally reviewed the product listed above. Shelly has not received any monetary compensation for her review. Shelly did receive a free product to try out so she could evaluate and use it for her review. Her thoughts & opinions in this review are unbiased & honest and your opinions may differ. Two Classy Chics is not responsible for delivery of any giveaway items won from this blog. We are not responsible for injury or mis-use of any products won from the Two Classy Chics Blog. Please read our Terms of Service & Disclaimer Policy before entering our giveaways. This giveaway is not affiliated with Facebook or Google+ in any way. Thanks!